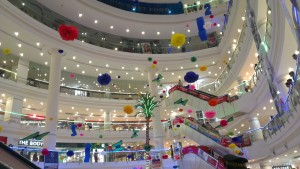 Royal Meenakshi Mall has been my standard haunt for the last two years. It was very exciting when it opened, seeing there was hardly any place to hang out on the southern stretch of Bannerghatta road. It quickly became a favourite destination when you didn't feel like bearing the atrocious Bangalore traffic, or if you just needed a quick snack.
But it has been undervalued that way, given it's proximity to my residence. It has always felt like the local mall and implicitly, the lesser mall compared to Forum or others in the city. Of course, not true. I don't like traveling far within the city, especially on weekends and hence, I hardly visit any other malls anymore. But when I do, I realize that Royal Meenakshi Mall is definitely not an underdog. In fact, Cinepolis here is much better than most other cinemas in Bangalore.
A Brief History of Royal Meenakshi Mall
I have written fairly enough about this mall and Cinepolis in the past. Stores have come and gone in these two years, some of them my favourites and the mall has improved in some aspects and degraded in others. I am just looking at some of those aspects here.
The mall opened up in the first week of April, 2011. In fact, I think it was 1st of April but I am not sure. I know I visited the place on 4th of April, based on my Foursquare checkin. Most of the stores there were yet to open. Cinepolis opened up on 22nd of April and along with it opened McDonald's, KFC, and many other stores.
I am not sure why then would they celebrate the anniversary in May. It might just be an official inauguration. In fact, their Facebook page says they opened doors on 6th May, whereas, I know for a fact that is not true because I wrote two blog posts with photos in early April, and of course, my Foursquare checkin here.
The Mall now
The mall is as welcoming as ever. Starting with the spacious atrium to passages on different floors, the general infrastructure is clean and decent. The parking facilities suffice for bikes, but for cars, I am almost always afraid I would end up on the lower basements (there are three).
My biggest problem with the mall is its elevators. Even on certain peak times, only 4 or 5 of their elevators work. Furthermore, the buttons to call the elevators don't work on certain floors. This is really irritating if you are with family and parked in basement 2 or 3. If I am alone, I usually don't care about the elevators and hit the stairs.
My second problem with malls now is its stores, though its not their fault. I was really, really disheartened when I found that my favourite cafe had closed suddenly one day. It had an amazing view with deep couches and was perfect for meeting friends or just reading. I have always relied on cafes to do my work and writing and it was very disappointing to have the best and nearest cafe to me closed. There were other stores I wished had stayed opened but not one of them was as disappointing as this one.
Cinepolis
I wrote about Cinepolis earlier here. Its still pretty much the same place – best seating in any cinema I know in Bangalore, best Nachos and best quality I have seen. I know that Urvashi has since come up with 4k quality and it definitely sounds better but you wouldn't find me be able to fit in their seats. Then there is PVR IMAX coming up but the suggested ticket prices are not that exciting.
One thing I have seen going down in Cinepolis is their cleanliness. I saw rats moving around the auditorium a couple of times I was there recently (not the last few times though). Another thing where they could really improve is their show-timings. You can almost always expect the movie to start at least about 5-10 mins later than advertised. Everything else is still good here.
Others
Other things for which I visit the mall are its food-court, McDonald's and KFC, sometimes an occasional Barista. The food court is good enough. One of the two of my most visited restaurants in food court just closed recently – Desi Dhaba. Well, Beijing Bites is still there. Rajdhani and TGIF are on the same floor but both of them are not my kind of restaurants. Rajdhani is all veg and TGIF is more of a pub than a restaurant. A new addition came up recently – Mamacita and it has been quite good.
All in all, the mall is still awesome with its various stores, particularly Hypercity and Croma, its food outlets, both inside and outside the mall, and Cinepolis, of course. Its a good spot for a quick getaway or an errand on a regular weekday. I avoid it on weekends for parking woes and the crowd, but that's true for most of the rest of the city.
Hello there! If you are new here, you might want to subscribe to the RSS feed for updates on this topic.Royal Meenakshi Mall has been my standard haunt for the...