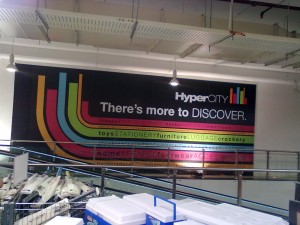 I had never heard of Hypercity until it opened up at Royal Meenakshi Mall about a month back. I heard about it when the mall first opened but I was never much interested in it. I thought it would just be another supermarket like so many on Bannerghatta Road. I never expected it to come close even to Reliance Mart, let alone my favourites like Spar.
However, I was very impressed when I first saw it. I used to frequent Spar for all my home needs and groceries when I was still in the city. After moving, it wasn't practical anymore and I had to settle with Reliance Mart in Arikere junction and Benison Supermarket in Hulimavu sometime later. They are decent places for essentials but no where near Spar in terms of range and general shopping experience. Until recently, we had no choice but to travel all the way to Spar to get things like cold cuts and meat.
Hypercity has been a relief for that. Like they say on their website, you get almost anything there. From refrigerators to routers, televisions to toasters, protein powders to foosball tables, you get the most common brands in imaging, computing, cellphones, apparel, appliances, sports and other categories. What it caters to primarily is groceries and home needs. In fact, the basement just contains the groceries and home needs apart from a small section for furniture. Take a look at some of the photos below.
The store itself looks impressive. The top floor is just an average looking supermarket and it works quite well. The groceries section in the basement is nicely laid out. You have a freezer section for fresh meat and chicken. Just outside, you have ice creams and frozen snacks in deep freezers. This area also houses groceries, fruits and vegetables arranged in bazaar style.
Like most supermarkets and department stores, Hypercity offers a decent range of discounted products. They have various offers running depending on the day and month. For instance, they offer discounts on groceries and home needs on every Wednesday. They highlight their offers on their website and Facebook page.
I would never say that Hypercity has everything you would need. I remember more than once when I have tried to find something that I expected should have been there. One of those items was ordinary fresh cream and I couldn't find my favourite brand (a very popular one), even though there were many other products from that brand. I guess this happens in all places and I can live with it.
Furthermore, while they offer many electronic products, I don't think I would buy those from here. There is a Croma just next door that does a better job with appliances and other electronic goods. The selection of apparel is satisfactory but I am not big about that. Same goes for other sections like furniture and home decor. However, just for groceries and other home needs, the store is an excellent place to shop.
Photos
Hello there! If you are new here, you might want to subscribe to the RSS feed for updates on this topic.I had never heard of Hypercity until it opened up...