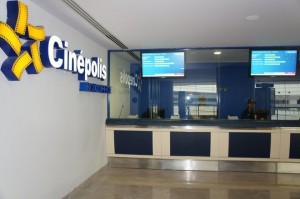 When we moved from my old residence in the city to a place off Bannerghatta road, I knew it would be difficult to hangout anymore. I had to travel almost 10 km for the nearest cinema theater. Going out to unwind became very impractical as the amount of stress in highway traffic outweighed any potential relaxing. In any case, there is little else to do in Bangalore apart from movies, malls and coffee shops. It just didn't make sense to travel all that way to roam around in a mall.
Slowly, restaurants improved around the area but there wasn't a single place to hang out. The closest cinema until recently was 7 km away and the closest coffee shop about 5 km. For any kind of meeting or taking a break, I had no choice but to travel all that way, and if I wanted change, I had to travel even more. Every time I was on road to the "city" I saw Royal Meenakshi Mall under construction and hoped it would start soon.
Then, earlier this year, I heard more about the mall. I found out that Cinepolis, a Mexican cinema chain would open in the mall. I was very excited to hear this. I would have been happy for any decent cinema but this was an international one. Of course, my expectations were quite high: both for the quality and the cost. Then again, I thought that given the location, the prices would have to be controlled to attract a crowd.
The mall eventually opened on 1st of April this year but not with Cinepolis. In fact, there were very few stores that opened with the mall. Slowly, store after store opened their doors and Cinepolis finally opened on 22nd of the month. I tried going on the first day but could only manage to go on the following Monday.
The first movie I ever saw there was Rio in 3D with family. I had already seen the movie in plain old 2D earlier in another cinema. I went mainly to test drive the cinema (and its 3D) and to take some of my family who had not yet seen the movie. My point was purely to experience the quality of video and sound effects.
The Cinema
I had heard a lot about their cinema theaters on their Facebook page. They are the first digital cinema in Bangalore (or India, I forget). They have the largest legroom amongst all cinema halls. They use RealD projection system for 3D projection and so on… There were others too but these were the ones I was most excited with. Finally, there was a decent projection system for 3D movies in Bangalore! I could notice the difference when I was there to watch Rio.
Given the proximity, this became my movie theater of choice for any movie. The following week I saw Thor (3D), Limitless and Source Code three days in a row. After that, I saw Source Code once again with family. Every time, I noticed the difference in quality both in 2D and 3D movies for the better.
Problems
Of course, it was not all good always. There have been some small problems which don't ruin the overall experience but leave much to be desired. I am hoping these problems are solved soon. I have listed these below in no particular order.
Website — After about three weeks of launch, we still can't select seats on the website. For some time, there was an option to select seats but that always returned an error. Instead of getting fixed, the option disappeared. I don't mind booking tickets from the counter and so I can select the seats there. If you want to select seats online, you can always book on the BookMyShow website.
Website — Another rather annoying thing about the website is that it asks you your city and login every time you open the site.
Charges for 3D glasses is not refundable. — There is a very small fee for 3D glasses (Rs. 20) which is non-refundable. I wished it were not there but I can live with it for now given that it is a RealD cinema.
I noticed that during screening of Source Code, the projector cropped top and bottom lines and resized it to fit the screen. I am not sure how many have a problem with this but I prefer that it be letter-boxed with black bars on sides rather than cropping the image.
During the second time I saw Source Code, the video did not resume after the interval. We waited for about a minute with just audio before they stopped it and fixed the problem.
It is not easy to find out how many points you have accumulated on your Cinepolis Club membership. I have given my Club Cinepolis card every time I booked tickets but I never got a status of my points. I used to get a vague status if I provided my mobile number but it seemed like it was not in my account. I am trying to follow up on this but it is not yet resolved. It would just be simpler if there was a web-based panel where I could check (and even redeem) the points.
They still have some things to work out and I hope that they work on them soon. Until then, it is still the best place for video/audio quality, theater ambiance and comfort. I can live with these shortcomings for now as long as the quality, comfort and customer service are maintained. It makes for a great movie watching experience near to home and I hope it stays this way.
Gallery
These photos are taken from the photo gallery of Cinepolis Bengaluru Facebook page. I am just showing the photos here to show the environment. All photo credits and copyrights belong to Cinepolis.
Hello there! If you are new here, you might want to subscribe to the RSS feed for updates on this topic.When we moved from my old residence in the city...