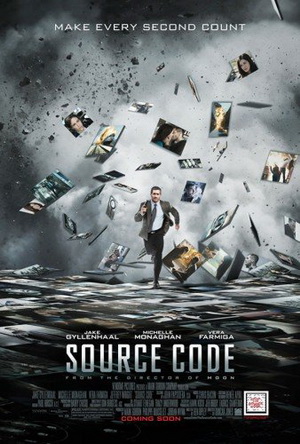 After a long spell, this week saw release of movies where you'd not feel like you threw your money down the drain after watching it. The last worthwhile movie I remember seeing was Inception. There were some decent onces interim but hardly any left an impression.
This week saw the release of Thor, Limitless and Source Code amongst others. Having heard good reviews about them, I went and saw all. I was curious about Source Code the most from the trailer and it turned out to be the most satisfying watch out of the three.
The movie plays out like a mix of The Matrix, Inception, Harry Potter, Deja Vu and Groundhog Day. You have the time-travel to stop crime like in Deja Vu, reliving same time-frame like Groundhog Day, seeing someone else's memory like in Harry Potter, etc… The movie is fast paced and even though you see pretty much the same eight minutes again and again, like Groundhog Day, you do not get bored of it.
Staying in Source Code is like playing a video game. You see and experience a level and after eight minutes you lose. The game restarts from the same point and you change your actions to win this time. The story makes it perplexing, though. You are not supposed to win the game but find out how you lose. No matter what you do, you cannot save yourself or other people around you. You have to play the game to satisfy a much bigger purpose, forgetting everything else.
This is what we see as Captain Colter Stevens repeatedly to find out who is blowing up the train he happens to find himself in. He tries desperately to find the person who is detonating the bomb and to save the people on the train, despite his orders. The story takes us on a person's desperate mission to understand his surroundings and events within a short span. Of course, like Groundhog Day, each time is new for other people but not Stevens, enabling him to experiment with people and his situation.
The movie runs just about hour and a half which keeps things interesting and fast paced without it becoming a blur. It is a must-watch for fans of time-travel and metaphysics. For the action, concept and execution, I would rate this movie 4 out of 5 stars.