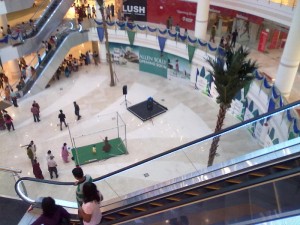 Wow! It is over two months since I last wrote a post here. There were no posts in the whole of February or March. Thats two months just gone from the life of my blog. I have been very busy with some stuff over these two months so much that I could not even post the quotes I already had selected much earlier.
Anyway, on to today's topic: The Royal Meenakshi Mall.
The Mall
Today, I went to see the newest member of the ever increasing list of malls in the Bangalore city. After months and years of watching the building come up on my way, the mall was finally open to public on April 1st, 2011. When I read this on their Facebook page, my first impression was this was an April Fools joke. Of course, this wouldn't have made any sense at all. I was excited to see the mall on the 1st of April, empty building though it might have been. I thought it would be fun to see the mall in development and see it come up.
Well, I couldn't make it. Today, being a holiday, I left work early and headed to the mall. There was a decent crowd there who, like me, wanted to see what the mall was all about so far. Like I thought and had heard, a lot of stores are still setting up interiors or their product displays. We looked around in some of the stores, bought some stuff, and most importantly, I made a note of what is open now and what might come up soon.
The mall seemed very welcoming and pleasant. I think they still have to work out the air conditioning because I felt quite hot and stuffy in the stores. The escalator outside is a very nice touch too. I just don't know how they will work it out in rain.
Inside, most of the stores are arranged in a circumference to the atrium. There are a few where you have to walk away to the left a bit to see them but I imagine they'll do okay. Moving up the floors is not really difficult like it is in some of the malls I have visited. If you want to go quickly to the third floor, you can use the escalators on one side to quickly move up without walking too much. Go to the gallery to see photos of the mall.
Edit: I completely forgot the location of the mall. It is located on the Bannerghatta Road just opposite to the Meenakshi Temple. This map should help.
Open Stores
To business now: As of April 4th, these are the places that are open and working (in no particular order):
Nike
Levi's
Nokia
Health & Glow – They have a lot of offers going on too.
Max
W
Pepe Jeans
Melange
Fab India
Lee
Swagger Watches
Woodland
Wrangler
Liberty Silks
Toonz
These are the food joints that are open and serving:
Barista
Baskin Robbins
Desi Dhaba
Shiv Sagar
Beijing Bites
Veg by Nature
Juice Junction
Swensen's – I had a ice cream here too which was just okay.
Coming up
These are some of the places that are coming up soon.
McDonald's – This is the place most people are waiting for to open. It looks like they still have a lot to do.
KFC – This too looks like they have quite a way to go. Interesting thing is that both McDonald's and KFC are just next to each other.
Costa Coffee – It looked almost complete with just a few finishing touches.
TGIF – It looked almost complete and there were some people who looked like customers but I didn't get a chance for a closer look and there was a opening soon poster outside anyway.
Reliance Trends – I just saw them arranging their products. Should be open soon.
Reliance Timeout
Cinepolis – It looked lively with lights and displays from below but the entrances upstairs were blocked.
Amoeba
and some others I don't really remember…
Gallery
Hello there! If you are new here, you might want to subscribe to the RSS feed for updates on this topic.Wow! It is over two months since I last wrote...