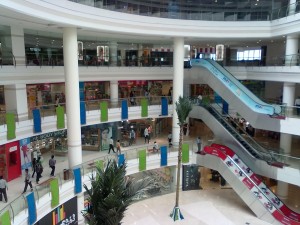 It is now over two months since my neighbourhood mall opened its doors after a long wait. At the time, it hardly looked like a mall – just a building which had a few stores. Today, it is almost completely packed with just a few stores yet to open their doors. Look at some of the photos below.
Two months back, there was nothing in the mall that would make you want to go there. There were just a few places in the food court, Swensen's, Barista and Baskin Robbins open at the time. In short, nothing that would get you a proper lunch or dinner. Swensen's hadn't even started sundaes yet. I remember we only had scoops the first time we were there and I had decided not to go again – a decision which didn't hold. I went there almost after every meal once they had sundaes to offer.
The turning-point was when Cinepolis and McDonald's opened up. It was now a crowded place, especially on weekends. Cinepolis did even better than I expected. They struck off the right balance of prices, timing and quality which served them well. According to their Facebook page, they served about 59,000 tickets in their first month.
The next milestone was Hypercity. I have written more about it in a separate blog post recently. Actually, I moved it to a different post as this one would have got very big with this section.
I almost forgot to mention Croma, Costa Coffee, Reliance Trends, Reliance Timeout and dozen other stores that opened up in this time. I have tried most of these and experience is satisfactory but nothing great. Croma has a decent range of electronics but they might not have the thing you want. Similarly, the book collection in Reliance Timeout is just modest.
As of today, the only much awaited outlet to open in the mall is KFC; which was actually supposed to open on Thursday. When we went there on Thursday for lunch, they told us courteously that they had to postpone the opening due to some reasons. They opened on Friday and I also enjoyed a 'Best of KFC' meal there later.
Royal Meenakshi Mall has become the default hangout place for me and many others staying around here and for the most part, it is good. Of course, there are few problems with the mall in general. One of the biggest issues is parking. They advertise a parking space for 600 cars and 600 two-wheelers across three basements. However, the parking layout is a nightmare to navigate through. The passages are narrow, some of the turns are very sharp and the route is very confusing. At times when the turns are not manned by the mall staff, you can easily drive up the wrong way only to face another vehicle. They have only recently increased the staff in basements which should help.
Another issue that I faced recently is customer support for mall. I went to the baby changing room on first floor and the lights didn't work. I tried calling the cleaning staff to fix this but only thing they did was try to flip the switch and when that didn't work, they just left me mumbling something. Further, there doesn't seem to be a Customer Service Desk for the mall. That would have been the definitive way to get help for such things. Another thing which I would have liked to see is WiFi for visitors. There are very few malls that don't offer WiFi and it is disappointing to see this mall in that list.
Another particularly bugging thing about the mall is that the mobile signal drops rapidly in certain sections. In fact, mobile signal completely disappears in Hypercity and basements. This is acceptable to some extent in basements but it is frustrating when you can't call your wife to check the shopping list from Hypercity.
This said, the mall is decent enough. The ground floor seems to be under-utilized. It is just a blank space stretching out except for the escalators and seating for Barista. Due to this, mainly, the mall seems not rich or interesting like some other malls. I am hoping they raise their standards and make it a place you'd want to hang out every day.
Gallery
Hello there! If you are new here, you might want to subscribe to the RSS feed for updates on this topic.It is now over two months since my neighbourhood mall...