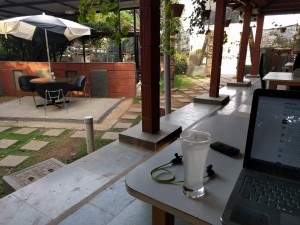 Another week, another cafe. I was quite surprised to find one in my own backyard. I just started searching for "Nearby" cafes on the Zomato app, not expecting anything. I actually found a cafe not even a kilometre from my house and I was shocked. I went to try Black Mug Cafe the very same day.
Black Mug Cafe is just off Bannerghatta Road from Gottigere. You have to take the narrow road going towards Kanakapura road from Gottigere and go in about a kilometre. Or just follow the map location.
I read the reviews and I was prepared to find it to be a hookah cafe but I didn't think that it will be difficult to find seating in the non-hookah section. Now, I can't stand smoke; hookah is slightly more tolerable but still I can't breathe around it. That is why I walked in and asked for a non-smoking section. He pointed me to a small room with a single table but this was very stifling. I moved outside and tolerated a bit of the hookah smoke that came my way. While leaving, I spoke to them and they assured me that the main area inside is free of smoking and I can sit there. That is what I did next time I was there, and the time after that.
The food ranges from average to very good. I tried 2-3 types of Chicken starters, Triple Schezwan Chicken Fried Rice, lime sodas, and coffee, which were all good. The garlic chicken I had recently didn't taste much like garlic but it wasn't bad. On the other hand, I tried some French Fries and a Blue Curacao Mocktail and it was not at all good. The fries were covered in red chilly and I didn't enjoy them at all. Now that I know, I could ask for just salted fries but I don't think I will bother with it. The Blue Curacoa was more like a milkshake than a mocktail. I had to order water to clear the taste (they didn't have regular water that particular day).
The service is also mostly good and the staff is very courteous, but some of them have trouble understanding me (maybe that's just me). They are still helpful and if they can't answer the question, they get someone who can.
All in all, Black Mug Cafe is a very nice cafe and if not for hookah, I would have really loved the place. In fact, if this were far away from my home, I'd probably not bother with it but the distance, decent food, and good service keeps me coming back, and I am happy. It typically costs me in the range of Rs. 300 to Rs. 500 depending on if I am there for lunch or just hanging out.
More Photos from Black Mug Cafe
Summary
Reviewer
Review Date
Reviewed Item
Author Rating
4





Hello there! If you are new here, you might want to subscribe to the RSS feed for updates on this topic.Another week, another cafe. I was quite surprised to find...