25
Jan
2016
January 25th, 2016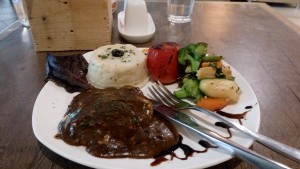 Being a remote worker I am always looking out for nice and comfortable cafes which are comfortable for long hours. I try out various cafes throughout Bangalore and am always looking out for a place that captures all essentials – coffee, space, and power. That is why when someone mentioned Muffets and Tuffets in a thread for cafes and I saw that it was in BTM layout, I bookmarked it for a visit. Photos are at the end of the post.
I found Muffets & Tuffets on the map on 7th main and 7th cross roads in BTM Layout, 2nd stage. When I reached there, I was completely surprised to see such a huge place. For some reason, I was expecting this to be a nice cozy cafe, but this was a rather large Bistro. It looked like an upscale place and I couldn't help thinking that it was a strange location for such a place (most other places on this road are small, street-food type joints). I went in anyway and looked around for a nice table near a power socket. The place was not exactly dirty, but it was not as clean as I was hoping. There was some water on the floor at the corners near the power sockets and the chairs were somewhat stained.
I sat down and ordered a Lamb Strong burger followed by a Rosemary and Pepper Lamb Steak. It took really long to get the food (about 15-20 mins). Since I was working anyway, I didn't mind waiting. The lamb burger was surprisingly well contained. Despite how large it looks, the fillings hardly fell out while eating. The steak was a different story. The side portions on the steak were sufficient, but the steak was small. I was still hungry even after having the steak after the burger.
After the meal, I ordered a large cappuccino and was completely disappointed with the small cup. It is not really a coffee shop after all. The coffee was decent and there were two biscuits as well which was a nice addition. In the end, I ordered a Orange Peel Granita which was mostly ice that did not melt even after 30 mins. I took some pastries home and they were just okay. Cupcakes were too sweet and could be better and Eclairs were better than most I have had, but not the best.
As it happened, my family was excited about the steaks and we went there again the next day. The experience was pretty much the same as my first one. We ordered soups this time which were quite refreshing, nachos were quite good, and the steaks were the same as before, good but too small.
For a bistro, the staff is somewhat slow. They can take your order but if you have a question, they call their manager/supervisor. This is largely fine but sometimes you make a wrong decision if you are not sure about an item on the menu. They also sell breads but the baguette I found was too soft. Ultimately, I didn't try anything in the breads.
The value for money is not great. The first day, it costed me Rs. 1000 for the burger, steak, coffee, drink, and pastries. While it sounds good, the portions were too small to justify the price. Muffets and Tuffets is nice for an occasional lunch but it is little on the nose for regular cafe visits. Considering the food and the cost, I give this place a 3.5 out of 5 stars.
Summary
Reviewer
Review Date
Reviewed Item
Author Rating