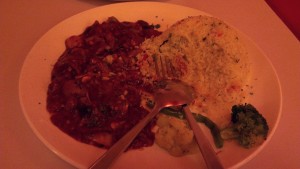 Eastern Diner was on our to-visit list since a long time. It got crossed off that list yesterday and got added to our favourites list. It is located in Koramangala, just opposite Jyoti Nivas College main gate. It was a bit of a drive for us in prime-time traffic, and that is part of the reason why we went there after all this time.
We had heard a lot of good things about this place and had a lot of expectations when we walked in. We were not disappointed. We started off with Devil Chicken, Chicken Momos and Chicken and Leek Soup. All of them were excellent. We wished we had ordered for whole portions of soup instead of by-two.
This was followed by Mexican Lamb and Roast Lamb Steak (in photos). Both were excellent, and very filling. We did not have space to try out burgers and submarines which looked so good. We ended the evening with Honey Ginger Tea, which was served hot in large cup, and was a perfect ending to the meal. I did not miss my regular Lime Soda at all.
My only negative feedback was with service. The waiters and servers were very courteous but they had a tendency to be over-eager in serving. We had not finished our starters when they laid out soups and momos on the table. We were barely done with that and Mexican Lamb was on the table. We had to send it back and ask them to keep it hot. Plus points for the speed, though!
All in all, its a nice place to spend an evening. The food is great, the environment is just cozy – nothing too fancy. It feels like a regular diner, and it is priced just right. The sumptuous meal for two costed us Rs. 1000, total. Next time, I am going to try some of the burgers and desserts.
Summary
Reviewer
Review Date
Reviewed Item
Author Rating