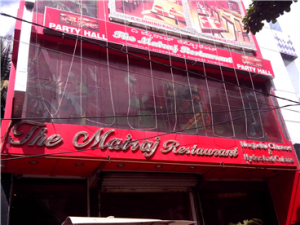 Some times you pay for food, at other times – service. Most of the time, you expect a decent combination of both. That is the expectation I had when I walked in The Mairaj Restaurant, in Tilaknagar area in Bangalore.
Dismal experience. I had heard good things about this restaurant, both food and service, and wanted to try it out. So, when I had nothing to do for dinner yesterday and was in the area, I tried this one with a friend.
The restaurant was empty except for waiters when we entered at 8:45 PM, on a Friday night! This is not that uncommon for the neighbourhood and we didn't think much about it. Feeling too lazy to go meticulously through the menus, we asked the waiter for suggestions. His suggestions for soups came decently enough, but he started losing patience with starters. He would recommend one item and then walk away, just like that. All the time, with something playing off his mobile phone from his pocket.
After a couple of times this happened, I suggested to go elsewhere. My friend commented this to the waiter and told him that he was not helpful and we got a sarcastic reply "aapko pataa hain na" (you know what you want, right?) Eventually, we got another waiter, who was quite helpful, and recommended dishes properly.
The food was good, but nothing to write home about. The soup – Shah Jahani something – was more like a curry. The starters were good. The gravy we ordered – Mumtaz Chicken Tikka Masala turned out to be too spicy. There was nothing to taste in that except red chilly. He probably misconstrued our request for spicy dishes and made it nothing but chilly. I know that this is a Hyderabadi restaurant, but there usually is some taste apart from the chilly in most other Hyderabadi restaurants I have tried.
I don't think I will be visiting this place any time soon, if at all. Deteriorating service in popular restaurants is nothing new, but sad, all the same. It might have been good at one time, but not yesterday.