20
Sep
2012
September 20th, 2012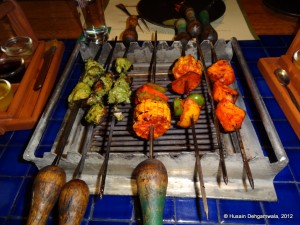 I had given up on Barbeque Nation after my meal there sometime back. The quality was going down with every one of my visits and the experience then was at an all-time low. I was against going here this time but got pulled in by my friend nevertheless. I am happy that he got his way. :)
The starters, though the same menu, have undergone a massive improvement in taste. In fact, there are now options in the kind of marinate or sauce you want on the chicken starters. The Masaladar Tangdi and Mutton Sheek were also better than before. Further, the taste of veg starters have improved greatly too and I especially enjoyed the corn.
In all my visits, I have never gone for the main course but the very first time there. I am not sure if there are any improvements on that front, and I don't think I care, what with the gorgeous spread of starters.
Then, the desserts, of course. There is a marked improvement here too but not much. They are as good as ever.
One special note about today was the service. While the service here has always ranged from good to above average, today, it was excellent. Our server took personal care of our tastes, options and catered heartily to our demands, not that we had to demand: Starters were in front of us before we could think about it. Only thing which lost out on perfection in service was that the bill arrived too late. I didn't mind it, really, after all the pamper, but that made a slight dent in an otherwise gracious experience.
Barbeque Nation has redeemed itself for me and I am happy to say that I will be there with family again.
Update: I did visit the place again with my family for dinner, and the experience was excellent. The service and food was as great as before, plus there were chats! (Photos below.) There was also live music and dance performed first by the servers (video below, a bit shaky and blurred though.) Then a couple got up and danced to the same music. Entertainment and great food all around.
Photos
Dance