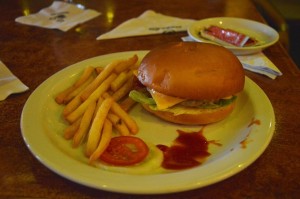 This June, my company organized a pot lunch for all teams wherever they may be working, and I thought this is a perfect opportunity to try out a new cafe. I took a quick look at my wishlist on Zomato and found Matteo Coffea. It seemed perfect and my team here readily agreed (one of them had already been here).
I am always on a lookout for a new cafe to meet, work and relax. My usual spots are Cafe Coffee Days and Baristas (as they are the only cafes near my home) and they suffice for my usual change-of-scenery requirements. But then again, there are only so many CCD's and Baristas near my home, and the environment is usually identical.
I walked in with great hopes for Matteo Coffea at Church Street and I was not disappointed. It has an excellent ambiance which, in spite of it's large rectangular layout, doesn't feel too exposed or open. It is dimly lit which puts you at a comfortable level to talk and the colour tones put you in an energetic state. The chairs and sofas are comfortable even if you sit there for hours.
The food is mostly above average though and the pricing is not really consistent. For example, the grilled chicken salad costed about Rs. 250 but it didn't feel like it, whereas sandwiches and burgers seemed reasonably priced. The coffee is quite reasonably priced and excellent too, I might add. The service is very hospitable and courteous. We did not have a single problem in our visit there.
If you want to work, they offer free Wi-Fi for which they only need your ID card for proof. I got the password but it turned out that we had to leave right after and I didn't get a chance to use it. Maybe some other time. One of the things I really liked here is that the prices on the menu are all inclusive. No surprises when you get the bill. (Well, I was surprised at finding out the prices are all inclusive.)
All in all, it was a great experience for me at a cafe. The only problem I have with this is that it is too far away from my home (15 km one way) and I don't usually visit the MG Road area all too often. But the cafe is worth it for me to make the trip. I will be there again soon. For now, I can give a well-deserved 4.5/5 rating to Matteo Coffea.
Summary
Reviewer
Review Date
Reviewed Item
Author Rating