25
Apr
2014
April 25th, 2014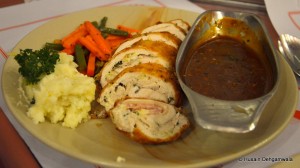 It was getting somewhat late (by Bangalore standards) and we were wondering what to do for dinner. We had tried most options around and we were looking to try something new when my sister-in-law suggested Cafe Churchill. I was looking forward to a new place and didn't mind going some distance, despite the lateness. We reached there around 11 PM and found that the place was full. We had to wait for about 20 mins before we got a table.
It is a smallish place with about 5-6 tables. It has a very casual atmosphere and a cozy setting, bordering on cramped. It was alright though. We looked at our options while waiting for the waiter, which took some time as there was apparently only one waiter working at the time and all the tables were full.
We started off with the Chicken soup which was excellent followed by a spaghetti (can't remember which one), Chicken Cordon Bleu and King Solomon Steak (photos below). I found the spaghetti above average and the Chicken Cordon Bleu was actually quite good. The steak seemed a little on the dry side and I didn't risk more of it as I was travelling the next day. We took away most of the steak but finished the rest.
Overall, the meal wasn't very satisfactory due to the service. The only waiter there was a little too busy to pay any attention to us. We had to ask and remind several times for things like water refill. During the meal, they just brought out garlic bread and when I asked, he said that this is with the meal, but later we got billed for that. They removed it from the bill eventually. My sister-in-law, who has been there earlier a few times was also a bit shocked with the service, and people I spoke to later also stand by the great service. It seems I had been there at a wrong time.
Considering the food and the service (mainly the service), I would give this restaurant a 3 out of 5 stars.
Summary
Reviewer
Review Date
Reviewed Item
Cafe Churchill, Coloba, Mumbai
Author Rating