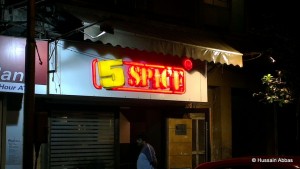 After several visits over the last few years, I have finally got around to write this review for 5 Spice. The difference would be that I would not give it a high rating as I would have given it back then.
This time, my first impression was that the service has degraded. You don't feel welcome enough and you would have to struggle to communicate with the waiters. They don't seem to care to get your order correctly. After this initial hiccup, almost everything was good.
This restaurant is best for large groups as quantities are huge. We were a company of 7 with a kid and we were comfortably filled with just two appetizers and three dishes. This also means that the value for money is great, working out to just a little over Rs. 300 per head (with a couple of lime sodas and desserts).
The food itself is quite good. We ordered Crispy Ginger Chicken and Sesame Chicken for appetizers and Nanking Rice, Korean Fried Rice and Thai Pot Noodles (all Chicken). All of them were great. The Korean Rice was a little spicier than other dishes but still perfectly palatable. Sesame Chicken was excellent as well.
For desserts, we ordered The Rocky Road and a Chocolate Oreo cake. The Rocky Road is an all time favourite and it didn't disappoint. Chocolate Oreo Cake was a bit of disappointment though.
All in all, this is a restaurant that would have got a 5 on 5 had it not been for the degrading service standards. I wish they pick up. For now, a 4 out of 5 is all I can give.
Summary
Reviewer
Review Date
Reviewed Item
Author Rating