14
Dec
2015
December 14th, 2015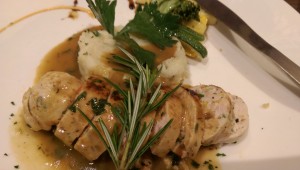 We were planning for a family dinner for the weekend and going through the usual list of restaurants. We decided on an old favourite but I wanted to try something new. On Saturday morning, I saw someone post photos from Krazzy Folds in a Facebook group and I immediately looked it up. I found it had great reviews on Zomato (I had even bookmarked it) and we decided to go here. I called here for a reservation that afternoon and got it.
We reached here on time and had a little trouble with parking. It is in an inner road in Jayanagar 4th Block and parking is difficult to find, especially on weekends. They did not have their own parking nor any valet. We were shown to a table enough for eight people. It was comfortable in the beginning as we settled in. After a while, kids started getting cranky due to the narrow and closed space. The restaurant was full and we didn't think of moving to another table. Otherwise, the ambiance was great and we were talking about a couple of walls with various items mounted and painted white.
The food was good, but fell short of my expectations I built up from the reviews and ratings I saw. We started with the Tom Yum and a Mixed vegetable barley soup. As per usual practice, we ordered by-two but the quantity was very less. I guess this was actually divided by two rather than typical restaurant practice of pouring generously. We had asked for items to be brought as soon as they were ready and we had one item after another coming to the table. The first was Chicken Tostada which was good. It was followed by the assorted breads (excellent), and Chicken Wings eventually (good).
In the main course, we had Chicken Lasagna, Caribbean Chicken with Rice, Stuffed Chicken, and Chicken Steak. All of them were very well done and the sauce in Chicken Steak was excellent. We also tried a Bloody Caesar and while I cannot give a review, it was interesting. We ended the meal with regular drinks like lime soda and ice tea, which were all decent.
The service was very good. The waiters were attentive and courteous and as quick as they could be considering the weekend. Overall, I was satisfied with the experience; satisfied, not very happy. It was good food and a nice experience overall but it did not hit the high notes I was expecting. I think that if our table was in a better place, we might have enjoyed the food much more. As such, I am only giving this place a 4 out of 5.
Summary
Reviewer
Review Date
Reviewed Item
Author Rating