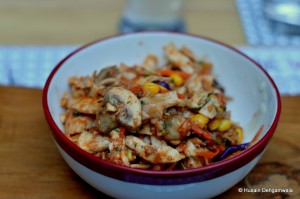 We were just leaving the Symbiosis Institute of Management on the last day of the workshop and thought we could go to lunch somewhere nearby before leaving for the airport or the railway station. After a few trials, we ended up at the E-Square Hotel and thought we could find something at the food court. We saw Oriental Connexions in the list and decided to go for it. As it turned out, it was a restaurant on the 5th floor and not a part of the food court. I was feeling a little queasy about eating in a restaurant just before a journey but we walked in all the same.
Initially, I thought of just ordering a lime soda but then I read the description for 'Walk to the Wok' and was intrigued. I have been to countless buffets but nothing quite like this one before. The table is divided into veg and non-veg sections with a window at the middle where you hand over the bowl. You can pick any ingredients from the table in the suggested order – Start with noodles or rice at the bottom, then veggies and then meat. This way, when they unload, the meat goes in first so that it gets cooked more than veggies and rice/noodles. You can let them know if you are a vegetarian and they would use a different wok for you. You can choose from a list of sauces and condiments to add in and they are graded on their spice to help make a suitable choice.
My first attempt was decent, with chicken and lamb along with some veggies and Schezuan Sauce. I went for a similar set of fillings for my second bowl but with different noodles and now with Mongolian Sauce. This one tasted much better to me. I was beginning to get the hang of it.
The ambiance was great. The gentle water on the glass roof gave a blue comfortable hue to the restaurant and it looked comforting. It was a great first experience and I had a lot of fun. I will be sure to visit again when I am in Pune. A definite 4 out of 5.
Summary
Reviewer
Review Date
Reviewed Item
Oriental Connexions - The E-Square Hotel
Author Rating