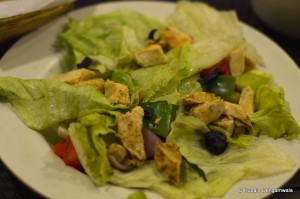 My last evening in Pune and my plans to meet a friend got cancelled. I was not in the mood for the room service again, and even though I was tired after a long day, I thought I could try out Grubshup which I had found in Zomato. I knew it was not far away and thought it might be a good experience – Salads and Sandwiches after a long day would do me good.
I walked in to the place and saw three tables and a staircase leading upstairs. They also had outdoor seating. I just wanted a quiet evening and I sat down at one of the tables. I ordered a combo with a tossed salad (I upgraded to Chicken), a Tomato Soup and a warm Ciabatta bread. The salad was great and the soup was thick. The ciabatta bread was a little harder than I thought it should be. I followed this with a Karimbhoy Pitawich and that was excellent too. I was a little disappointed with the iced tea though.
All in all, a great meal! I really enjoyed it and I wish I was with my wife who I know would have enjoyed it here. I will be back here when I am in Pune. A hearty 4 out of 5! Now go see the photos.
Summary
Reviewer
Review Date
Reviewed Item
Author Rating