30
Apr
2014
April 30th, 2014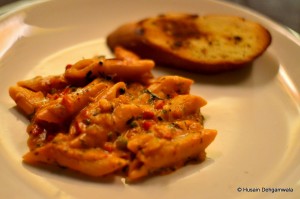 I have been hearing about Jalpaan since a long time. I had visited it a couple of years back for a friend's treat and my memory is hazy on that experience. I just remember that I came out with an "above average" feeling then. I intended to give it a test again recently. Photos are at the end of the post.
We reached there at about 8:30 PM on a Friday evening and I was a little surprised to find it almost entirely empty. We immediately sat at my friend's favourite table which was no trouble as the place was empty. We started with the popular tomato shorba followed by Masala Mafia pasta. The tomato shorba was excellent and I wished we had ordered whole portions each instead of the "by-two". Masala Mafia was just about okay, well, maybe a smidge more than okay. I get the fusion cuisine but it seemed like it could have been sobered up on spices.
We closed the dinner with Sizzler Dum Aloo Makai Biryani, which turned out to be a little bit of disappointment. The biryani was not really a sizzler and felt more like a pulav rather than a biryani.
We also ordered a lassi to wash down the pasta and was that a big glass! See the photos below. All in all, I can only give this a rating of 3 out of 5. Its a good place, but simply does not live to the hype.
Summary
Reviewer
Review Date
Reviewed Item
Author Rating





Comments are closed.