7
Sep
2014
September 7th, 2014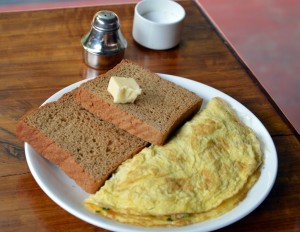 Bangalore seems to be the land of cafes. Well, hardly! But there are a few good cafes around and while they are almost all as far away as it is possible to be while being in the same city, I try to try them out. This is the reason we planned a colleague's birthday celebration at Dyu Art Cafe.
I reached a little earlier and went in to find the place completely empty. It was only 10 AM and I waited for everyone to arrive. I tried to arrange a birthday cake but the staff there made no allowances. They don't allow outside food and they themselves don't have any birthday cakes (they have simple cakes, but those are not for a birthday celebration). I tried to convince them, even asking them to get a cake from elsewhere but to no avail. I gave up after that. Even more surprising was the fact that they do not accept credit cards. After all this, it was no surprise that they don't have Wi-Fi.
On to food, I started with a Chicken Cheese Omelette which was pretty okay. By the time I finished it, my friends had arrived and we ordered their cake with chocolate sauce and I ordered a Chamomile tea. There is not much to say about them. They were just okay. The staff were helpful though. I had forgotten my data cable and they arranged one for me. The day was not completely lost.
All in all, this is definitely not one of the better cafes in Bangalore. I might have tried the place again if it were nearer but given the distance, I don't see any reason to go there again. For now, a 3 out of 5 stars seems proper for this place.
Summary
Reviewer
Review Date
Reviewed Item
Author Rating