30
Dec
2012
December 30th, 2012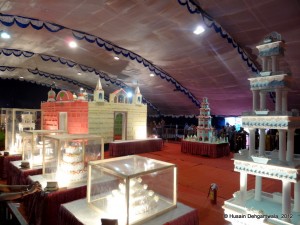 The end of this year saw the 38th annual cake show in Bangalore. The cake show, held in St Joseph's School Ground (near Mallya Hospital) draws a huge crowd who come to see huge cakes based on any theme and smaller, but still huge, cakes.
Cake Show
I remember visiting the cake show every year when I was very small and then, the cakes were nothing short of impressive. Huge, accurate representations of monuments, buildings, were placed in air-cooled rooms surrounded by a slow moving queue. The cakes were almost always made by Nilgiris and were amazing. This seems to have changed recently and every year's cakes appear to have a different baker. When I was there couple of years back, it was still quite good. This year's cakes, however, were only about average. It seems like they would have been able to do a good job, but for some reason, they didn't.
There is not much to write here about the cake show itself. It started off with a huge, five-walled structure, to show peace between all world religions. The hall was lined with smaller cakes representing fairy-tale characters, super heroes, animals, etc… After walking through the twenty or so cakes in the hall, the cake show opens up to an exhibition, which you might as well just walk through. All in all, you would not be losing out on much if you miss this. Just see the photos below to check out the cakes.
Photos