8
Jan
2011
January 8th, 2011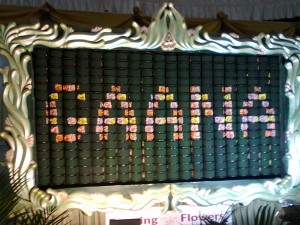 I had nothing to do on a Friday evening and decided to accompany my parents to a old songs musical show as they had an extra ticket. I didn't know much about it except that it was going to be held on Palace Grounds. I asked my dad for the name and he said something like "Golden Nights". I searched and searched but couldn't find anything. I gave up and just assumed that the show was not promoted online at all.
I only saw the tickets on the way to the event. It was actually "Golden Greats" and the event is called "Rang De Basanti". The concept was Khana with Gaana (Dinner with song). In fact, there were two huge boards on the stage one saying "Khana by Pankaj Kothari" and the other "Gaana by Kaushik Kothari". Even though it was desperately corny, it made me smile.
Khana
The dinner buffet was scheduled to start at 6 PM. Given the distance to Palace Grounds (around 20+ kms) and the traffic on the way, we reached there around 7:15 PM. I was very hungry and rushed to dinner. I looked around at the crowded field and went inside the tent which looked inviting. It looked like the last section but I started anyway. I had a cola and tried the pizza, which was quite good. I then tried pasta (which was horrible, extremely salty) and vada-pav (you can call it the Indian burger). At this point, we decided to start the main course.
The main course consisted of various kinds of sabzi, gravies, rice, breads and salads. I took a kulcha, a paneer sabzi, some tawa pulav, some regular pulav and few other things. The food was, at best, average. There was nothing I particularly enjoyed. It is my practice to visit the food stalls many times during a buffet but I did not go there the second time. I went for some chats – pani puri was disappointing. I went for the pizza again and finally some desserts. After waiting in a long line, I had two small wafer fondues and then some kulfi. Finally, I gave up, had another Thums-up (or two) and went to the gaana section.
Gaana
We had dinner until 8:30 PM. I was quite sure that they would start the concert at 8 but that didn't happen. Later, they announced that the time for dinner was, in fact, 6:30 PM to 8:30 PM. Anyway, I first went to the flower display I had spotted earlier but skipped owing to my hunger. It was quite mesmerizing. Here is a video I took:
We went and got seated in almost the last row. We couldn't see much of what was going on on the stage, as you can see in my photos below. It was good there were two huge screens where we could see things a little bit better.
A lot of seats were still empty when we entered the hall. Slowly, people started filling in and out. It was like sitting and watching a show on a railway station platform. Moreover, the back row kept talking incessantly and we could not hear any music without the background noise. After a while, we moved to some of the front seats vacated by people who had left early.
The show started good and when I was beginning to think that the money was well spent on the tickets, it started getting boring. I was hoping for it to get over. I would leave early but I kept my seat for two reasons: Parents loved the show and I wanted to write something about it on blog. Anyway, my patience paid off and the show started to get interesting around 11:30 PM. They also had an actor cum playback singer sing a song. There were more interesting and entertaining songs one after another.
Old songs is something of a lost art now in Indian Cinema, or so it seems. When I heard these songs, they seemed very polished and sophisticated to me whereas most of songs coming out of Bollywood today are just screams and shouts. I knew this, of course but I experienced this live for the first time. I was never much interested in Hindi songs (especially new) but this show was very entertaining (for the most part). In three of fifty or so songs, there were characters played by some actors or singers themselves in costumes.
The show finished at 1 AM, well after the scheduled end time of 11 PM. I have no idea what they were playing at with the times. Initially, I thought they gave the time half an hour early so that people (who are usually late) will be there on time. I was not impressed by this but let go. Finishing a show at 1 AM that was supposed to end at 11 was very frustrating. The music did help to soothe me but not much. I left the hall somewhat frustrated and reached home around 2 AM.
Song List
For the sake of completeness, I have compiled the list of songs played yesterday on YouTube. Click the play button below to play all of them one after another. The list with links to each video follows:
Boojh Mera Kya Naam Re (nice jumpy music in this one)
Mein Ne Chand Aur Sitaron Ki Tamana Ki Thi (Mohd Rafi)
Yaad Na Jaaye Beete Dinon Ki (Mohd Rafi)
Mera Joota Hai Japani (a character came on the stage and danced this song)
Mere Pairon mein Ghunghroo (this was also played by a character dancing to the song)
Mein Kahin Kavi Na ban Jaaon (this was sung on stage by a popular actor, playback singer, Niyaz Uddin)
Chori Chori Jab (this was sung on the stage by the singer who sung it for the movie too)
Dil ka haal sune dil wala (this was sung by Sanjay Sawant and quite well)
Main Hoon Ghoda Ye Hai Gaadi (another song with a character dancing)
Dil Ke Jharoke Mein (again sung by Sanjay Sawant and one that left audience shouting "Once More")
Medley of songs
Gallery