27
Dec
2010
December 27th, 2010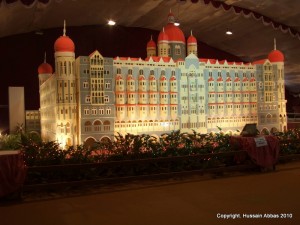 I have been wanting to start this photo section from a long time. I have been collecting photos and planning to post one every week but never happened. There was always too little time to do this. Today, I am going to start this as a weekly thing like my Quotation Tuesday entries. So, look out for Photo Monday entries like this one from the next week.
The photo is of a cake modeled after Taj Mahal Hotel of Mumbai. The cake is 14ft in height and 20ft in length. It required about 5000 tonnes of sugar to make and over two months to complete. The cake, along with some others, is on display at the 36th Annual Cake Exhibition in Bangalore. Every year there is a grand cake like this one and some other cakes for viewing pleasure. This year, The Taj Mahal hotel was selected in remembrance of the terrorist attacks two years back.
The exhibition started on 17th December and due to end today. You can find the location in the map below. It is setup in St. Joseph's High School on Vittal Mallya Road next to the Kanteerava Stadium.
There is a nominal entry fee of Rs. 45 and, thankfully, no camera charges. The first thing you see when you cross the entry gate and the small passage is the huge cake in a dimly lit tent. Along with this, you will see several other cakes like Santa Villa (photo below), wedding and other fancy cakes.
Once you cross this section, you will come into a small section where you can buy some quick (and not so quick) snacks. After this is the exhibition hall where you can expect reasonable discounts on some products. Frankly speaking, the exhibition was not so great and after seeing some of the interesting products, we moved on to the exit.
Here is a bonus photo of the day. The Santa Villa with a Santa Claus inside it. He might be a bit tired today, after all the guests he might have given out, but you might still find him if you go today.