26
Jan
2016
January 26th, 2016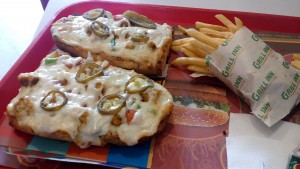 Cheese! That's the one word review for Grill Inn. You love cheese? Go here.
I found this place via a photo of a Chicken Cheese Burst footlong on a Facebook group for foodies. This place is near Jayanagar 4th block and since I don't go there often, it stayed on my list for a while. The first errand I got there, I rushed to Grill Inn.
The place is very small – I counted a total of 9 chairs, 2 tables, and a high bar. It is certainly meant to be more of a delivery place rather than dine-in. I reviewed the menu and ordered the Chicken Cheese Burst Footlong. It took a long time to get the order – I am guessing about 20 minutes, or maybe even more, but it was worth it. I had made it a combo with fries and coke and the fries were also quite good, which does not happen often. The coke was somewhat small, but okay…
I have to go back there to try out the burgers and other items on the menu. The service was slow, like I said, and when I was there, there was only one person manning the counter and also preparing the dishes and his responses were quick and short. He did try to be courteous but was not very successful. In any case, he was not rude and delivered the order perfectly. I am happy and I will go back there soon. Meanwhile, I give it a hearty 4 out of 5 star for the food, docking a point only for the service.
Summary
Reviewer
Review Date
Reviewed Item
Author Rating