23
Jan
2016
January 23rd, 2016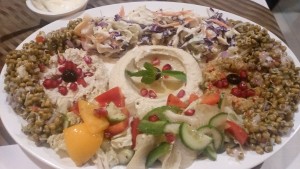 It was time for the first team lunch of the year and we all got discussing where we would go next. When a colleague suggested Le Charcoal, I didn't expect it to be an Indian restaurant. In fact, we probably mixed up menus or something and saw that it had a salad bar (it didn't). I was excited to go here and couldn't wait for the day.
As I entered, there was nothing French about the restaurant. The ambiance was decent but very Indian / Mughlai. We had a reservation for 6 people and those tables were in a kind of separated section in the restaurant. It was slightly cramped but once we started having fun, we didn't really notice. We started off with soup and due to some confusion we ended up ordering two more bowls than necessary. The lemongrass chicken soup I had was very welcome as I was slightly under the weather.
Next, we ordered starters. There were only two who would have non-vegetarian items which meant we had a lot more veg starters than non-veg. I tried Paneer Chilly, then Paneer Tikka (we wanted to repeat Paneer Chilly but got confused while ordering). I also tried Mutton Tikka and that was a disappointment. It was not very well done and they did not even feel like tandoor, but like some kabab. A word of advice here: Check what you order and get. I had ordered Mutton Tikka and then brought Fish Tikka at first.
We then tried some salads. We first got an Apple Mint Salad which was not really what we expected, but it was still okay. Given there were six of us, we just went ahead and ordered the Mezze Platter. The Baba Ghanoush and Hummus were quite nice and along with the Pita bread, it was a complete meal.
For mains, I wanted a biryani and with some boneless chicken or lamb. They didn't have such a biryani but they offered that they could make a Chicken Shish Taouk with Biryani Rice which I couldn't really find on the menu. Anyway, the quantity was enough for more than one person but it was just me and I enjoyed it to the last.
The food, while good, was not consistent and the service was somewhat slow. There is definitely a lot of room for improvement. Just a fancy name does not a fancy restaurant make. Le Charcoal is good and could use some improvement and for that I can happily rate it 3.5 out of 5 stars. Photos below. Click on them to view it in Flickr.
Summary
Reviewer
Review Date
Reviewed Item
Author Rating