19
Dec
2015
December 19th, 2015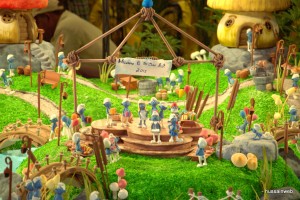 It seems that the Annual Cake Show is a continuous crowd puller. As usual, it was held in St Joseph's School Ground (near Mallya Hospital) and drew huge crowd to marvel at huge cakes as well as their detail. Photos are at the end of this post. This year, the cake show will run from 18th Dec, 2015 to 3rd Jan, 2016.
Cake Show
Unlike the previous years, we had much more time to walk through the cakes this time. We reached at a time when there was virtually no one else in the hall (except the people working there). We walked around at leisure taking photos. I doubt if it will be this empty in the coming days. In fact, a few minutes into it, there was a small flow of people trickling in.
Another difference was that they had not gotten around to putting in the enclosures for the smaller cakes. They were actually building those enclosures when we reached there. The photos were much better compared to last years and the experience was a bit more fun as well.
It seems that it is not always Nilgiri's who presents the cakes but this year it was Nilgiri's. The cakes were somewhat better (except for the Avengers who just looked weird). There was a good selection this time (Avengers, Smurfs, etc…) The exhibition was mostly the same as usual. Most of the stalls were still being set up and there was much less crowd. We were out much earlier than last time.
The cake show is scheduled to go on until 3rd January, 2016. Check it out if you are in the area.
Summary
Event
Location
​
St Joseph's School Ground

,

Vittal Mallya Rd

,

Ashok Nagar

,

Bangalore
Starting on
Ending on