25
Dec
2014
December 25th, 2014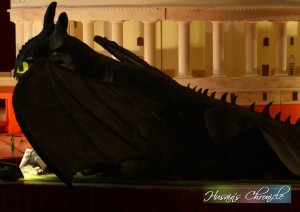 UPDATE: Read about the 41st Annual Cake Show in Bangalore (2015) and photos here.
Breaking my delayed posts streak, I managed to post photos for this year's cake show. As usual, it was held in St Joseph's School Ground (near Mallya Hospital) and drew huge crowd to marvel at huge cakes as well as their detail. Photos are at the end of this post.
Cake Show
As I mentioned in my post for last year, the cake show is now a commercial event with cakes only to attract people. You get barely 10 mins to walk through the area where all the cakes are displayed and bouncers would keep hovering around you to shuffle you along. Even though there are "photography restricted" signs all around, no one really cares unless you are taking too much time. I was walking and clicking for most of my photos.
All that said, I certainly felt that the cakes were a slight improvement over the last year. There were many different kinds of cakes, including one which was built out of biscuits. The detail on some of the cakes was amazing, such as the bride's cake but for the most part, the quality of details was above average.
We would not have probably gone to this if it weren't for Olaf and Toothless, who happen to be favourite characters of my daughters. Unfortunately, they were not all that impressive. Toothless looked meaner than in the movies and strangely out of proportion while Olaf was just about okay. I'll let the photos do the talking for the rest. You should see a slideshow below but if you don't, go directly to my Flickr page.
The cake show is scheduled to go on until 4th January, 2015. Check it out if you are in the area.
Summary
Event
Location
​
St Joseph's School Ground

,

Vittal Mallya Rd

,

Ashok Nagar

,

Bangalore
Starting on
Ending on