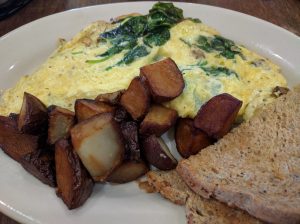 On my last day in Mid-City in New Orleans, I decided to have a little "nicer" breakfast than what I had usually. I looked up on Yelp and found The Ruby Slipper Cafe just a couple of blocks from the place I was staying. I was probably a little late for breakfast but I made my way there.
The restaurant was still busy and almost full and I was guided to a table in reasonable time. The waiter was very friendly and helped me with the options on the menu. I went for a bottomless coffee and a Florentine. As you can see from the photos, these were very well presented and very delicious. The Florentine was very filling and the sides made sure that it made for a very nice fulfilling breakfast.
The service was excellent and even though it was full, the waiter was very pleasant and courteous, and helped me through all my choices. The funniest thing for me was that when I asked for water, it was served as though it was an expensive drink. It arrived in a heavy glass, with shaved ice, and a straw for good measure. You do get a feeling that water is very expensive in the US. My only quip would be that it took a very long time for the Florentine to arrive, but since I had a bottomless cup of coffee to keep my company, I was not bothered.
All in all, I enjoyed my visit there and I would have wished to go there again in my trip, but it didn't work out given the distance. Go here for a breakfast and prepare for a leisurely meal, because it will take time, and it will be worth it.
Summary
Reviewer
Review Date
Reviewed Item
Author Rating