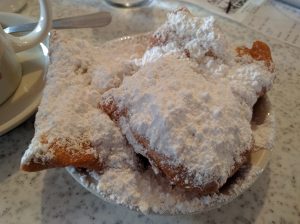 I wanted to go to Cafe Du Monde even before I knew I wanted to go to New Orleans. After watching New Orleans in movies like Chef, I had made up my mind to go here. Thanks to DrupalCon organized here, I got my chance to see New Orleans and go to Cafe Du Monde.
As it turned out, I could not go to this place until my last day in New Orleans. I walked from the convention center area to Cafe Du Monde, which is quite a distance but I got to explore the city and Mississippi river. I walked in and found a table, which was a difficult task. I expected to wait at least as much time as I waited in Morning Call, but it wasn't that long. Before long, a waitress walked by to collect my order of a plate of Beignets and Cafe Au Laite.
The Beignets were disappointing, which was probably due to the hype I had built around it. What I know for sure is that there was too much sugar on it. At Morning Call, you pour as much as sugar as you wanted. The coffee was good and reminded me somewhat of the South Indian coffee back home.
I think given all other feedback it deserved another try but I didn't have the time. It was not bad, but it was not as good as I had heard it would be. I would still recommend to go here even if for nothing else but a historic place.
Summary
Reviewer
Review Date
Reviewed Item
Author Rating