9
Sep
2014
September 9th, 2014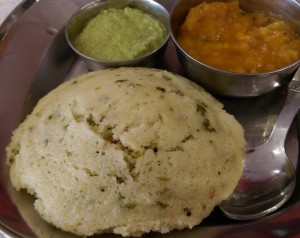 I passed by Maiya's Express recently when going to a cafe and I just stopped to take a look. I couldn't see much but I planned to come back there. As luck would have it, I passed by the same route again next day and decided to try it out. I only had a few minutes but then, the name said "Express", and I thought it should be quick.
I have been to the regular Maiya's restaurant and liked the food, even if I found the cost on the higher side. Another problem with Maiya's restaurant, and probably more significant, is that there is no Ala Carte menu during lunch hours. They only offer the full meals which is not worth it unless you are really really hungry. That is not the case with Maiya's Express. They do not have the full menu, but it seems they have the best items.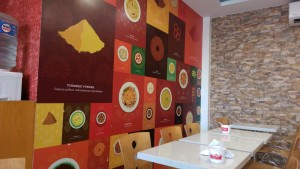 I climbed up the stairs of Maiya's Express in JP Nagar and found that there was hardly any place to stand. I went through the door at the side to find their store. The seating area is just through a open doorway. It looks like a modern fast food joint and quite welcoming. They have the menus on TV displays and I noticed that their rates inside are somewhat higher than listed outside (service charge, of course). I sat down and ordered Rava Idly and a coffee thinking that it would be served in no time, considering that Rava Idly is usually ready and, well, the restaurant name was "Express". It took quite some time though. When I asked if it was not ready, the server responded that it was and I had no idea why it was not served immediately. It was delicious and it was one of the few times I finished the sagu along with the idly.
I followed this with a Rasmalai which was decent and a coffee, which was above average. All in all, it was a good snack. One thing I noticed was that there was only one server in the area. But the place was nearly empty when I was there and maybe they have more at peak times. I would definitely go back here. But considering the slow service, I would still give this place only a 3.5 out of 5.
Summary
Reviewer
Review Date
Reviewed Item
Author Rating