29
Apr
2016
April 29th, 2016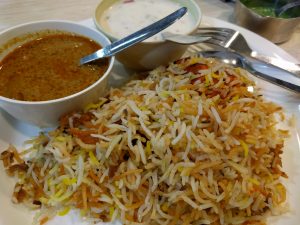 I walked in House of Kebabs for lunch one day when I was supposed to wait in Basavangudi for a couple of hours for an errand. The name and ratings sounded appealing and I decided to try this place out.
The restaurant is located right on RV ride on the left side when going towards Lalbagh from the South-end circle. It is fairly easy to spot but you have to be a bit slow. You can also use Google maps to find the restaurant.
The place was empty of customers save one who was waiting for take away. That seemed conspicuous but it happens (even on a Saturday afternoon) and I sat down. I ordered a Chicken Tikka Biryani and a chicken kabab. The order took some time to prepare and serve. I especially liked the kabab and biryani was just okay. The chicken was very tender and juicy and I really enjoyed the chicken pieces in the biryani, but otherwise, it was slightly on the dry side.
They do accept card payments but there were some network issues apparently and my card payment didn't go through. Just be prepared with cash in case this happens.
I don't find myself in Basavangudi that often and I don't think I'd travel the distance for this place. I'd still travel a distance for a good biryani but this simply didn't justify. If you're in the area, it is a simple enough place with nice food. Photos below.
Summary
Reviewer
Review Date
Reviewed Item
House of Kebabs, Basavanagudi, Bangalore
Author Rating