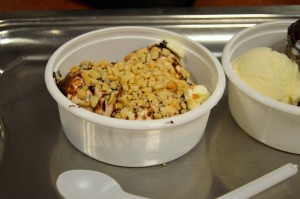 Corner House has always been one of Bangalore's iconic hangouts. It stands firm with it's traditions while the city around it keeps changing. I remember their excellent hot chocolate fudge and cake fudge, two of my favourites from their short, but full menu.
It was only with hope that I walked in to the Corner House outlet in Jayanagar 9th Block. It was years since my last visit and I didn't know how much it would have changed. As it turned out, it hadn't changed at all. Even the prices are sort of reminiscent of times gone by. It had the same marble look typical of old restaurants with simple tables and chairs, unassuming interiors and a plain menu on the board.
I ordered their all time popular hot chocolate fudge and tried out chocolate mousse with ice cream (photos below). For a total cost of Rs. 230, this looked like a good deal and once we were full with them, the pricing looked very reasonable. The hot chocolate fudge was, as always, excellent, but I was a little disappointed with the chocolate mousse though. It felt somewhat dry and didn't feel as satisfying as the fudge.
Go here, if you have not already been here. The distance is a huge factor for me but I am pretty sure I will crave the hot chocolate fudge before long. A delicious 4 out of 5 stars rating. A few photos now:
Summary
Reviewer
Review Date
Reviewed Item
Corner House, Jayanagar 9th Block, Bangalore
Author Rating