3
Sep
2016
September 3rd, 2016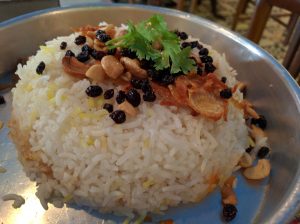 I had been hearing about SodaBottleOpenerWala since quite some time before I made it there. It is located on Lavelle Road which didn't make it easy for me to plan a trip there soon. I finally made it here last month for lunch with a friend. We didn't need reservations. I just called in to confirm if walk in is possible and off we went.
It's difficult to park on the road and it's good that they have valet parking. We walked in to loud blaring music to a square table somewhere in the middle of the restaurant. Our waiter arrived soon and took our order. We started with Chicken Farcha, a boneless chicken starter and some Shrewsbury biscuits. The Shrewsbury biscuits were excellent and the chicken starter was a bit oily for what I expected, but still good enough.
We then went with Sheekh Kabab and Berry Pulao. The berry pulao was probably the only interesting dish that we had. Everything else was pretty much what I have had in other places. The aloo paratha was good but nothing great. The only other dish that was probably as interesting was the 5 Star Brownie.
All the dishes were good and we had a good time, but this was nothing new of a dining experience for us. We didn't expect that. Also, the bill of almost Rs. 2,200 for two for this food was a complete turn-off for me. Still, I am trying to be objective and give a rating of 3.5 out of 5.
Note: I had been there before the famous inspection of restaurants in the area, including SodaBottleOpenerWala. I haven't factored in the rating of this restaurant with the results of those inspection, which were disappointing, to put it mildly. I wish it weren't so but I wouldn't be surprised if almost every restaurant in the city failed in that inspection.
Photos of SodaBottleOpenerWala
Summary
Reviewer
Review Date
Reviewed Item
Author Rating