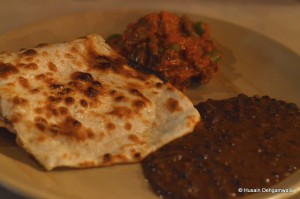 After years of recommendations from a friend, I finally made it to Angeethi a couple of weeks back. I had heard a lot about the place and had high expectations and I tried keeping them down. The highest praise I heard was for the naan and dal makhani and it was always on the course. One thing I didn't hear was that this was a theme restaurant, built up like a village (not as elaborate as the Village restaurant though).
The ambiance was nice and very low light, which made it difficult to take proper photos. We sat down at a table for six and ordered a hara bhara kabab, dal makhani, kadai sabz and a couple of naans (all in photos). The hara bhara kabab was good but as promised, the naan and dal makhani were marvelous. The kadai sabz was not that great but I made do with dal makhani and had no complaints. It was only two of us and hence two gravies, but otherwise, I would have loved to sample more.
I would love to go back here sometime soon and hopefully get a good gravy to go along with the dal makhani and naan. A nice 4 out of 5 points for this restaurant.
Summary
Reviewer
Review Date
Reviewed Item
Angeethi - Museum Inn, Church Street
Author Rating