15
Sep
2013
September 15th, 2013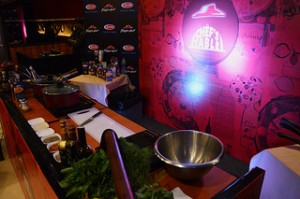 Two weeks back, on September 6th, I spent three hours commuting for a three hour event in my otherwise commute free life. I was not too sure if it was worth it and reached Gopalan Signature Mall in CV Raman Nagar with doubt, but it was all for naught. Pizza Hut Chef's Table was a grand success, and I enjoyed every bit of it.
The event was led by Pizza Hut's Head Chef Arjyo Banerjee and Barilla's Executive Chef Luca Ciano. I arrived at 5:30 PM (ok, a few minutes late) to meet both the chefs waiting to greet me and promising a fun, pasta filled evening ahead. As I unpacked my camera and notebook, the servers brought in a choice of light drinks. They were friendly, and expertly offered me Ginger Lime as I was still feeling a little tired and unwell after the commute.
The event began soon after. After a short introduction by Pizza Hut's marketing head Sunay Bhasin, we started off with veg and non-veg platters from Pizza Hut. Chef Arjyo described his inspiration while explaining about various kinds of Pasta (there are 350 different shapes and types!) This was followed by Chef Luca's account of Barilla and the diversity of Italian cuisine. The food for thought was followed by food for stomach in form of pizzas served to the table.
The chefs soon began their preparations and shared great tips to cook pasta. As a wannabe cook, I learned a lot but quietly did nothing but listen and click photos. They are embedded below. Do comment and share!
As for the overall account, other bloggers did a great, and a much quicker job of putting the event in words. Here are some of them:
The press note by Pizza Hut:
A celebration of Pastas at Pizza Hut
Pizza Hut's Head Chef Arjyo and Chef Luca Ciano from Barilla, Italy come together for the 3rd Season of Chef's Table in Bangalore
Bangalore, Sept 6th, 2013: Pizza Hut launched the third season of Pizza Hut's much talked about- "Chef's Table" in an exclusive event led by their Head Chef, Arjyo Banerjee in collaboration with Chef Luca Ciano, Executive Chef from Barilla, Italy. Together, they showcased Pizza Hut's fun and innovative ideology behind their extensive menu offerings. The city of Bangalore saw the two chefs coming together in an exclusive & interactive live cook out and workshop for select guests. The event is the latest in the series of interactive get-togethers planned by Pizza Hut called "Chef's Table" for food lovers, to share and enjoy recipes made using fine, flavorful and natural ingredients that Pizza Hut is known for.
The event, held at their Signature Mall, C V Raman Nagar restaurant, had a specially created 'Menu of the day' showcasing Pizza Hut's latest (and soon to be seen) range of dishes inspired by the two Chefs, in which special emphasis was laid on quality ingredients, layered textures and "burst-in-your-mouth" flavors. During this session, for the first time Chef Luca took an exclusive Masterclass on "Perfect Italian Pasta" for all the special invitees, and gave a view into the heritage and quality of the pastas served at Pizza Hut.
The Chefs had fun and played off each other as they rolled their sleeves up and got to work making pastas fresh for the special guests. It started with Chef Arjyo preparing Red O White pasta, soon to be launched in Pizza Hut smooth, creamy and tangy – ideal for the Indian palette. Chef Luca was up next with penne rigate with Sicilian vegetable caponata, sultanas, toasted pine nuts and salted ricotta. Chef Arjyo came back with a classic lasagna and then Chef Luca prepared a scrumptious prawn pasta A perfect complement to the feast, were a variety of 6 appetizers (vegetarian and non-vegetarian), refreshing beverages, cheesy thin crust pizzas on traditional hand tossed bases, and an indulgent dessert
Speaking on the occasion, Mr. Sunay Bhasin – Director Marketing Pizza Hut Dine In India said "Innovation and consumer satisfaction is at the very core of Pizza Hut. Chef's Table provides a great platform to showcase and bring alive the philosophy of fun and flavor behind our menu. We have a great partnership with Barilla – Italy's No.1 Pasta and are delighted that Chef Luca came all the way from Italy to be a part of this one-of-its kind event."
Commenting on the Chef's Table, Chef Arjyo, Head Chef, Pizza Hut, India said, "The Chef's Table is a great opportunity for Chef Luca and me to get together and have some fun with consumers, sharing our thoughts and love for the food we put out at Pizza Hut Restaurants across India. At Pizza Hut, it has always been a conscious effort to give consumers signature food and taste experiences using the most fresh and flavorful ingredients cooked with simplicity, be it our pastas, pizzas, drinks, appetizers or desserts. This forms the heart of our cooking, creating an experience to be enjoyed by all the senses. I urge you to visit Pizza hut and taste them!"
Chef Luca Ciano, Executive Chef from Barilla, Italy said "Working with the Pizza Hut team and Chef Arjyo has been a great experience. Serving the best food is only possible when you use the best quality pastas, like Barilla, combined with the right blend of flavors. Chef Arjyo and his team have done a great job of creating some innovative recipes that now feature in the all-new menu at Pizza Hut. Today's Masterclass was just an extension of Pizza Hut's endeavor to serve the best quality pastas to their customers."
About Pizza Hut:
Pizza Hut, the world's leading affordable casual dining restaurant brand, over 15 years in India. It made its foray into India with a restaurant in Bangalore in June 1996 and was the first international restaurant chain to pioneer this category in India.
The restaurant brand offers an exciting menu consisting of its signature pizzas, appetizers, pastas, desserts and beverages. Its trademark dining experience has been recognized by Brand Equity to make it the 'Most Trusted Food Brand' for 8 years in a row. With over 70,000 footfalls per day across the country, Pizza Hut is the perfect place to celebrate any occasion in life, small or big.
Pizza Hut is one of the flagship brands of Yum! Brands Inc. which also has KFC and Taco Bell under its umbrella. Pizza Hut is the world's largest affordable casual dining restaurant chain with over 13,200 restaurants across 97 countries. In India, Pizza Hut has 148 dining restaurants in over 40 cities.
About the Barilla Group
Barilla is one of the leading Italian food groups, a leader in the markets for pasta worldwide, for ready-made sauces in Europe, for bakery products in Italy and for crisp breads in Scandinavia.
For almost 140 years the Company has been run by a family that now, under the leadership of the brothers Guido, Luca and Paolo, has reached its fourth generation.
With a hand in all the product categories that are at the heart of the Mediterranean nutritional model, Barilla creates products for everyday consumption, searching for excellence in taste and paying constant attention to nutritional balance.
Barilla's turnover is generated in the area of the Italian first course (pasta and ready-made sauces) and bakery products (biscuits, bakery products, cakes, snacks, soft breads, crispbreads, and cereals).
The Group employs over 8,000 people and owns 30 production sites. Barilla owns 13 brands.
Every year its factories produce 1,7 million tons of products, under the brands of Barilla, Mulino Bianco, Voiello, Pavesi, Gran Cereale, Pan di Stelle, Wasa, Harry's (France and Russia), Academia Barilla, Misko (Greece), Filiz (Turkey), Yemina and Vesta (Mexico). Over one thousand products, matching different moments of everyday consumption, are distributed to 100 countries.
Barilla has become one of the world's most esteemed food companies and is recognized worldwide as a symbol of Italian know-how by respecting its longstanding traditional principles and values, considering employees a fundamental asset and developing leading-edge production systems.
For more information, please visit: www.barillagroup.com
For further information, please contact:
Genesis Burson-Marsteller
Jaswinder Singh / Purnima Joshi
Hand-phone: +91 858 883 9893 / +91 888 429 1820
E-mail: jaswinder.singh@bm.com /purnima.joshi@bm.com
Summary
Event
Location
​
Gopalan Signature Mall

,

CV Raman Nagar

,

Bangalore
Starting on
Ending on