18
Sep
2011
September 18th, 2011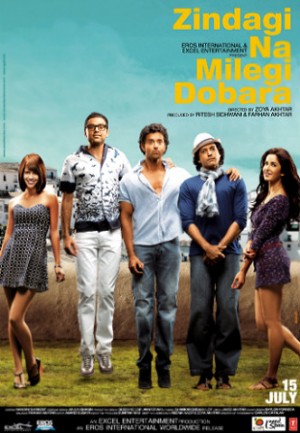 July 15th of this year saw the release of a movie called "Harry Potter and the Deathly Hallows – Part 2" and another one which I was not interested in at all: "Zindagi Na Milegi Dobara". Shortly after, I heard many good reviews of the movie and finally decided to check it one morning. I am very glad I did.
I plan to keep this as short of review as possible. Many have done this and in any case, it is past the review time. I enjoyed this movie and I know many of my friends did; as simple as that.
The movie is filled with great moments, stunning visuals and hilarious dialogues. Of course, like any movie, this one is not without flaws. There are a few face-palm moments which could have really spoiled the experience. There were a few scenes which had abrupt, and sometimes confusing transitions. They were few, though, and overall did not spoil the movie. The music could have been better. It worked well but there was definitely some room for improvement, especially in the first half.
The Message
The message of this movie is life and living it: Not how custom or conventional sense dictates but as to make it worthwhile. Towards this end, the focus of the movie was the essential pragmatic nature required to live. That is not to say that the movie was devoid of emotions. Each of the characters had varying degrees of emotional problems to deal with; Arjun with his vision, Kabir with his marriage and Imran with his father; however, the seeming lack of emotional display has brought some criticism. For instance, Komal Nahta writes in his (business) review:
But had there been at least two strong emotional scenes between the three friends, the film would've been on an altogether different level.
…
A sacrifice by one friend for the other or, probably, risking one's life to save another would've done wonders for the film.
For my part, I am glad there were no such scenes in the movie. True, they could have turned the slow pace of the movie (which is another criticism for the movie) into a fast one with this level of emotional turmoil. That would have been liked far more widely, but I don't think I would be among them. I really liked the practical outlook on life highlighted throughout the movie without dwelling too much on emotional problems. One of my favourite lines in the movie for this reason is:
Dil Aakhir tu kyun rota hai?
Not afraid anymore…
A recurring theme in this movie is personal fear. The three characters have several fears which they control and conquer by participating in adventure sports. On the surface, they solve the fear of diving deep in waters or of jumping out of an airplane or even playing close to death; however, on an inner level, they slowly come to terms with their hidden fears. They learn to confront their fears; confront the truth and live past it. Another interesting angle put forth in an Economic Times article says this:
For many of us, our relationship with money is similar. We are scared to accept reality.
…
Accepting your fears related to money is the first step to liberate you and start you on the path of financial freedom.
Zindagi Milgayi Dobara
Like Economic Times picked up the financial aspect of the movie, I am sure we can do many more. I will leave it here for now. This is already a much longer post than I planned.
I don't think I have seen any other movie in a cinema four times. I did not intend to review this movie, just wanted to write what I feel about it. I often reflect on why the title has a negative in it. I would have much preferred the title to be positive like sunshine from the credits song and proclaim that I have reclaimed my life. I am always of hope that there will be a turn somewhere which would set me on living, not just getting through life.