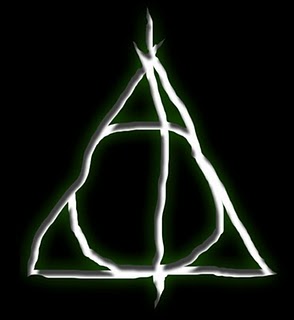 I reviewed the movie in my previous post. To keep it simple and short, I didn't go into many details there as far as changes from the book were concerned. We'll do that here.
Some of the changes are small and easy to overlook. Some of them are glaring and make you go WTH but are still consistent, technically, as far as the movie series is concerned. A few are not even consistent with the movie version.
Before we start listing them out, I want to note that some of the changes actually make the story better and a more interesting watch on the screen. It is only some of the changes, especially those that are not even consistent with the previous movies that seem somewhat irritating.
Spoiler Warning: This post discusses the story in book and in the movie and changes between them.
First, I will list the changes that just didn't make sense or fall with sharp contrast with the previous movies.
Voldemort immediately knows when a horcrux is destroyed. This is even in conflict with the previous movies where he never knows that the locket or the ring is destroyed.
Luna a Ginny are already in the Room of Requirement when Harry and group arrives from Hogsmeade. They are supposed to be on the run. What were they doing in Hogwarts?
The Grey Lady (Helena Ravenclaw) says that the previous boy promised to destroy the diadem but defiled it with dark magic instead. This doesn't make sense. There was no reason that she would want it destroyed then. The movie doesn't even offer an explanation of what the diadem normally did. Further, she is not supposed to know about it being a horcrux (which was the dark magic she referred to). Why does she want it destroyed at all?
Harry can hear the horcruxes. This is inconsistent with the Chamber of Secrets where he has the diary for a long time (which was also a horcrux). How come he never heard that in spite of all the basilisk hearing he was doing?
---
Those were the big ones. Lets relax now and just list some of the rest for curiosity's sake.
Dumbledore's tomb is not in Hogwarts grounds but is apparently somewhere else.
The trio and Griphook don't have to go through as many security checks outside Gringotts as we see in the book.
Lupin never arrives with news of Teddy and to make Harry his godfather. This would have been a cool scene.
Harry doesn't defend Dumbledore while talking to Aberforth saying he was never free of guilt for Ariana. He just says he doesn't care.
We don't see the Ravenclaw common room at all. Luna catches Harry before that and directs him to the Grey Lady.
Since there is no Ravenclaw common room, we don't see Harry stepping up for Professor McGonagall aganinst the Carrows. I really wanted to see this.
We don't see the Shrieking Shack. The conversation between Voldemort and Snape happens in the boathouse which the trio hear from outside.
Harry doesn't let Neville know that it is important to kill the snake. In fact, he meets Ron and Hermione and tells them where he is going and why. I don't really mind this. It is somewhat better too.
In the King's Cross scene in the book, Dumbledore says that Harry, if he chooses to go back, has less to fear to return than Voldemort. I really wanted that dialog as, to me, that is the reason that resolves Harry to go back and fight.
In the forbidden forest, Narcissa Malfoy goes towards Harry by herself, not by force. This, in my humble opinion, was necessary to resolve her to lie to Voldemort about Harry being dead.
The whole snake chase scene was kind of an unnecessary extra to me. I would have preferred that Neville kill the snake right in front of Voldemort's eyes. That would have shown Voldemort who he was dealing with.
We have a whole fly-by sequence and fights in various places in Hogwarts between Harry and Voldemort. Whereas, in the book, it is a simple matter of Voldemort casting a spell and having it rebound on him. This change makes the movie much more appealing and gives it the epic end it needs. However, I would have at least wanted them to fight in the great hall with Harry repeatedly calling him Riddle.
In the movie, we don't see that it was because of Harry's sacrifice that Voldemort cannot touch or harm anyone. This is well shown in the book but just missing in the movie.
Harry snaps the elder wand and throws it away instead of returning it. This makes somewhat more sense as he wants that the wand should not belong to anybody; however, he doesn't repair his own wand before throwing the elder wand away. Well, he won't need it for the next movie anyway but still…
---
Having said all this, I would still repeat that I really like the movie in spite of (and in some cases, because of) the changes above. The movie is a related, albeit separate work of art and it is good to see fresh ideas thrown into it. We just need some sense and consistency and it would have been perfect.