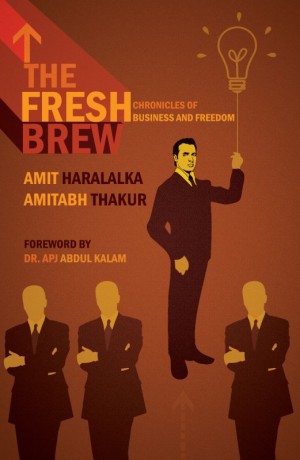 After Stay Hungry Stay Foolish and Connect The Dots, it has become a trend for books containing stories of entrepreneurs, and I am okay with that. The stories are mostly interesting and almost always insightful. Even if the story is repetitive, there is always a take away, even if very small. But I need that book to be written well. The Fresh Brew, sadly, fails at this task.
I have always liked to think of myself as a voracious reader, but I couldn't get past the first six stories. It is not the stories themselves, but the way they are written. In fact, some of it did not align with the general spirit of entrepreneurship at all. In one story, it seemed that the person was okay to do anything he wanted as long as he received Rs. 1,00,000 every month on time. It is hard to associate that to the general spirit of entrepreneurship. It may not be the actual nature of the gentleman in question but the book certainly made it look like so. The other stories I read were quite intriguing but reading through them is a chore. Random spelling and grammatical mistakes don't help either.
Inspired by Stay Hungry Stay Foolish, the book contains stories of twenty-five entrepreneurs graduated from IIM Lucknow. It's foreword is by APJ Abdul Kalam and is probably the most insightful piece in the book. I am not saying the rest of the book has no value but it is few and far between. The stories and advice are very specific but it is possible to draw a lot of general information about business in India from the stories, if you can force yourself to sit through it.
It was a pain to navigate through this book finding stories and ideas that interest me. For instance, "I have a Dream" has a neat index that also includes summaries, which means I do not have to go to each story to read the summary and then decide to read further or not. Formatting also plays an important role. In The Fresh Brew, each story is about 5-10 pages of plain text with an info-box here and there, and there is hardly anything valuable in the info-box. You won't be able to associate it unless you read the whole text. Whats the point? The stories should really be broken down in sections. That way, if I want to, I can skip over the person's school life and favourite subjects and get down to the interesting parts.
Generally speaking, I think its time that these books start getting condensed and simple to read. We already have Stay Hungry Stay Foolish and Connect The Dots by Rashmi Bansal, then The Fresh Brew by Amit Haralalka and Amitabh Thakur. I also have I have a Dream by Rashmi Bansal again and The Game Changers waiting on my shelf, waiting to be read. These books follow the same format but I am not discouraged from reading them yet. There could be a gem of a story in one of them. For that matter, I am not totally abandoning The Fresh Brew either. But for now, this is all I can read of it.
Overall, I am sad to have to rate it only 2 out of 5 stars. I really hope I could give it more. I read the summaries of other stories in the book and they seem really interesting, but going through 5-10 pages for each story filled with mostly fluff is not inviting.
Summary
Reviewer
Review Date
Reviewed Item
The Fresh Review - Chronicles of Business and Freedom
Author Rating