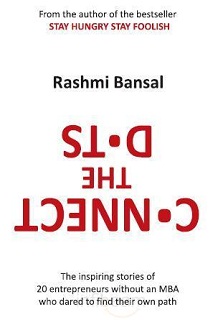 I have already spoken at length about this in an earlier post which was for another book by the same author: Stay Hungry Stay Foolish. This contains story of 20 people, each distinct from each other with hardly anything in common; except for passion, of course. The stories are… cool. In fact, before reading this, I definitely thought Fem was an international brand (not from India) as did some of my friends. I also thought Su-kam was just one amongst many inverter brands and Crossword was formed of a large company. Reading the book was a pleasant surprise in this. From the back-cover (sic):
'Connect the Dots' is the story of 20 enterprising individuals without an MBA, who started their own ventures. They were driven by the desire to prove themselves. To lead interesting, passionate, meaningful lives. Their stories say one thing loud and clear. You don't need a fancy degree or a rich daddy to dream big and make it happen. It's all in your head, your heart, your hands.
As you can see from the back cover text, grammar is something that is clearly not the priority in the book. In fact, this is just the start. There are misplaced punctuations and phrases throughout the book; just like 'Stay Hungry Stay Foolish'. This was a point I wanted to write in my earlier post but I left it out to concentrate on the positive aspects. When I was reading SHSF, I sincerely hoped that CTD would not have such grammatical errors. I was sorely disappointed.
I could choose to let go mentioning the grammar here and focus on what I got from this book. The problem is, after reading SHSF; I did not find Connect the Dots as appealing as SHSF. It is just a story of twenty people who made it against the odds and became big. I am not saying that the stories aren't worth reading or even inspiring. After reading these stories, I was even prouder to be an Indian and of my fellow-Indians. No, the problem was that these stories did not add any value to my thoughts.
This could just be me but the stories did not just align with me. You can definitely wave this book in face of someone who doesn't believe you when you want to follow your dream. I am not sure if this book is going to add any value to how you are going to realize your dreams.
This said I enjoyed most of the stories. The book contains 16 full-color pages which have photographs of the people in the book. This adds a nice personal touch to the stories. My copy of the book is also author-signed, which is not a big deal, I think. When I purchased the book, I got almost a 35% discount on the author-signed one. I did not go out to buy an author-signed copy. In fact, I am not even sure if Rashmi Bansal has actually signed this. For all I know, it could just be a printed signature.
I know I am sounding mostly negative on this book but in fact, it is quite an okay read in other aspects. I was just appointed after seeing that the language has not changed. In fact, I got irritated at some places where the interviews were not translated. It is quite difficult to read multiple lines of transliterated Hindi text in English. I understand that this must have been done to keep the author's words intact but I wish that a translation was also included for quicker reading.
The book begins with this encouraging note:
You can't connect the dots looking forward; you can only connect them looking backwards. So you have to trust… in something – your gut, destiny, life, karma, whatever. This approach has never let me down, and it has made all the difference in my life.Steve Jobs, Commencement address
Stanford University (2005)
The book is again divided in three sections:
Jugaad – These entrepreneurs have no formal training in business. They learnt by observation, experimentation and application of mind.
Junoon – These entrepreneurs are driven by a particular idea, or passion.
Zabaan – These are creative people who needed a platform to express themselves.
It contains stories of these people:
Prem Ganapathy, Dosa Plaza
Kunwer Sachdev, Su-kam
Ganesh Ram, Veta
Sunita Ramnathkar, Fem Care Pharma
N Mahadevan, Oriental Cuisines
Hanmant Gaikwad, Bharat Vikas Group
Ranjiv Ramchandani, Tantra T-Shirts
Suresh Kamath, Laser Soft Infosystems
Raghu Khanna, Cashurdrive
R Sriram, Crossword
Saurabh Vyas and Gaurav Rathore, PoliticalEDGE
Satyajit Singh, Shakti Sudha Industries
Sunil Bhu, Flanders Dairy
Chetan Maini, Reva Electric Car Company
Mahima Mehra, Haathi Chaap
Samar Gupta, Trikaya Agriculture
Abhijit Bansod, Studio ABD
Harishchandrachi Factory, Paresh Mokashi
Krishna Reddy, Prince Dance Group
Kalyan Varma, Wildlife Photographer
Most of these stories are a delightful read, though, like I said earlier, you just get a feel-good satisfaction and nothing of value. I hoped for more from this book but I am fairly satisfied by it.