24
Jan
2011
January 24th, 2011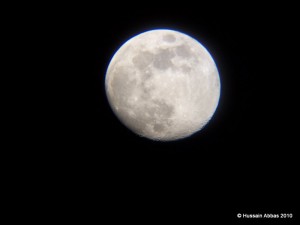 I put this in a little late today but better late than never, right?
Today, I have for you glorious photos of our nearest celestial neighbour: The Moon. The photos are very old. I took them through my telescope while star-gazing a couple of years back. I didn't have a nice D-SLR camera to mount up to my telescope (nor do I have now), so I held the camera as steadily as possible over the eyepiece and after many adjustments, I got a few shots. Some of the shots will, of course, seem repetitive.
I know these shots aren't the best but they are mine. I will try to get updated shots soon, if possible. I know the moon is the same but my photography skills have improved as has my camera. Want me to take even better photos? Sponsor a camera for me. Contact me from the feedback form below and I will let you know how to donate for this, ahem, noble cause.
Gallery