19
Jan
2014
January 19th, 2014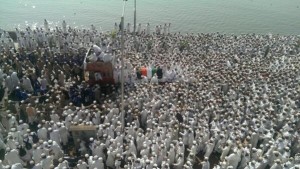 There was nothing unusual about 17th of January when I woke up and went about my day. I was a little under the weather and took the day off and was looking forward to rest and relax whole of the day. I had no idea, none at all, that I would hear the news that my lips still shudders to utter and my fingers tremble to type. The news that my Moula, my father, Dr. Syedna Mohammed Burhanuddin was no more.
It all started when I received a message from a group mentioning that this happened. This was followed by an official message asking us to gather, but no details. I cannot describe how I felt at that moment, or how I got ready and left for Masjid. It all seems like a dream from a distant reality. Desperately hoping that the news was fake and the gathering was for something else, I reached Masjid to find everyone discussing the possibility and how there is no official message yet. That soon changed. No one could stop crying when the next message beeped and announced that our Moula has taken to rest forever.
No one could go home after this. Prayer after prayer, and hope for news, and truthfully, the only hope was that this would turn out to be a nightmare and we would wake up soon, and wake up to find that Moula was still…
And we all waited for our Moula Mufaddal (TUS), knowing that just seeing Him would give us strength, and console us that while Moula Mohammed Burhanuddin has gone to rest in the eternal halls, he has left with us a moula just like Him. Nothing matters now, no amount of condolences suffice, nothing exists. All that exists is the face of Moula Mufaddal Saifuddin (TUS), stricken with grief as He carried his father, our father to His final resting place in Raudat Tahera. And in His face, we see our Moula Mohammed Burhanuddin and know that He is with us forever.