27
Sep
2013
September 27th, 2013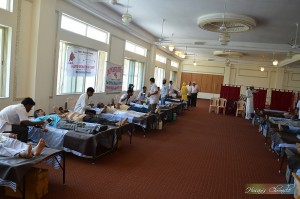 "Donate Blood. Donate Life." Or "Donate blood, save lives." No matter how cliched these phrases sound, importance of blood at a critical time can only be appreciated by someone in that situation. Fortunately, this concept is not lost on most people and even out of their way to help someone. This got over three hundred people together on a lazy Sunday morning to donate blood at the Fakhri Blood Donation Camp held in Bohra Layout, Gottigere.
The camp started at 8:30 AM on 22nd September, 2013 and many volunteers got there first to donate blood and then to organize the event. Thanks to their efforts, the formalities were quickly dispensed with and the donor was quickly led to a testing area and then to the donation area. Overall process did not exceed 20-25 minutes, out of which 10-15 minutes is the blood donation time and subsequent rest itself. Continued after photos…
The camp was organized by Fakhri Medicals and Indian Red Cross Society, Karnataka Branch. The amazing collaboration brought together 20 beds and separate tables to process forms, tests, etc… The entire process is concluded with refreshments which included delicious dates, almonds and milk packets, among other snacks. Donors could relax and enjoy the snacks while following a presentation on the benefits of their donation.
As I walked in, I filled the form in a few minutes and immediately proceeded to the test area. After waiting a couple of minutes, I was called for a blood pressure test and determination of blood group. I was handed a token and directed to an empty bed. I got started in a few minutes and after the packet was filled, they asked me to rest for a few minutes before getting up. Feeling thoroughly pampered, and bored, I asked a few questions to the person attending me. I learnt that there are two types of blood packs in use – 350ml for a donor less than 60kg and 450ml for a donor above that weight. They never accept anything less than 350ml (because it is not worth it, considering the costs involved) nor anything more than 450ml (because that's too much). Different tests are run on the collected blood, including HIV and Hepatitis, before the blood gets finally accepted.
After a few minutes, I got up, and was escorted to the refreshments table. Volunteers showed me to a chair, brought me water and other snacks and asked me to sit and relax again! I walked around and spoke to volunteers. Mohammed Saifee, my friend, who volunteered for the event told me that there was hardly a lull in the crowd flow. There were sudden spikes in the inflow with a group of 10-15 people coming in at the same time, but otherwise, it remained steady and most of the 20 beds were always full.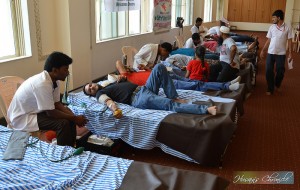 Juzer Hararwala, a member of Fakhri Medicals, described the benefits of blood donation to the general public. "For every 100 bottles of blood required, there are generally only 10 available", says Mr. Hararwala. Apart from saving lives, there are practical benefits to blood donation. "If you don't get a call within three days of donation, it means that you are fine", says Mr. Hararwala, describing that each bottle of blood is tested for diseases and if it is found positive for any of the diseases, the donor is informed by the blood bank.
Fakhri Medicals was started in 1992 to support and aid people for medical needs. Apart from providing guidance, the group also ensures financial support to anyone regardless of the person. "If the person is asking for help, we assume that they need it", says Mr. Hararwala. Fakhri Medicals also supports people in purchase of medicine on a regular basis. Fakhri Medicals accepts donations which go into support of patients for surgeries, treatment costs, pharmaceuticals, etc… It also regularly conducts wellness programs and complete health checkups.
This blood donation camp saw a total of 300+ donors. "People from Indian Red Cross were stunned to see people's response", said Mr. Hararwala. People were visibly dejected when they were turned away by doctors due to age, blood pressure or time of last meal. Many insisted on recheck of blood pressure to be able to donate blood. "You can see the joy on people's faces after they have donated", observes Mr. Hararwala. Eighty-one donors were rejected in the initial tests that check blood pressure, hemoglobin levels, etc…
The camp closed at 1:30 PM with a total of 247 blood packets collected. It was a great experience being a part of this camp, not least of which was donating blood. Considering the tremendous response, Fakhri Medicals is planning to organize this event every six months. Considering that blood can be donated every 3-4 months, this gives enough time for donors to replenish and rejuvenate. This event will certainly be welcome within the community and among enthusiasts, and continue to live up to Fakhri Medical's aims.
Summary
Event
​
Fakhri Blood Donation Camp
Location
​
Amakin-e-Burhaniyah

,

Bohra Layout

,

Gottigere
Starting on
Ending on