19
Mar
2013
March 19th, 2013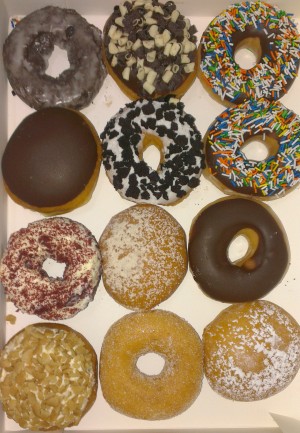 I used to hate donuts. Well, hate is a strong word; I was indifferent to them. All I had ever had were donuts from local small bakeries, which are just an excuse for a round piece of bread with whole in middle and some chocolate on top. For the longest time, I thought that is a donut and never bothered about it. That was until I received an invite to a blogger's meet at Krispy Kreme one evening.
Honestly, I was looking forward more to the meetup than the donuts. I read the reviews and I knew that the donuts had to taste better than what you get at those small bakeries, but I was not that interested. I made my to Krispy Kreme there from my workplace. It is located on Church Street (near MG Road, entrance from Brigade Road) and after a journey of a couple of kilometers, I reached to find most of the gang already there.
It was great to see familiar faces and fun to make new acquaintances. After a brief catch-up and introductions, we received a box of dozen assorted donuts, courtesy of Krispy Kreme. Can you guess what happened next? Well, you probably can: Everybody had their cameras out and started clicking away at the box. I took a photo (or two) and grabbed straight at the chocolate glazed donut with rainbow sprinkles.
It was a donut like I had never tasted before! A slightly crispy exterior with soft interior and covered with chocolate and rainbow sprinkles giving just the right amount of sweetness (I cannot really handle very sweet stuff). Along with a cup of coffee, it was the snack I always wanted. I never even wanted to go up in the first round of demo of the donut making machine.
Anyway, after I was done with the donut, I went ahead along with the group to get the explanation of how these donuts are made. The entire process was explained by our patient and pleasant guide (photo below). I will not repeat the entire process here, but there were some cool tidbits of information like:
4 pounds (or KG's) of flour make about 18 dozen donuts.
Donut rings are fried in vegetable oil for about 55 seconds on each side (shells for 60 seconds).
They spend about 2 mins on each section of the belt.
Their temperature drops from 185 degrees to 85 degrees to about 40 degrees to the end of the conveyor belt where they are picked up and carried away for processing.
They are picked up from middle of the belt (at around 85 degrees) for customers who request hot donuts.
From flour to processed donut – the process takes 4-5 hours. To prepare for the start of the day, the process starts at 3AM.
The machine seen in photos below has a capacity of about 270 dozens per hour.
I also took a freshly glazed donut and added my own toppings (photos below). It was good, if I may say so myself.
It was a great end to a great day (more on that later). I took back a box of dozen assorted donuts for home which lasted over 2 days, refrigerated (and was still good to taste). Visiting Krispy Kreme really changed my outlook on donuts. I will be there for more very soon. By the way, here's a map for those of you planning to visit there.
Finally, on to some photos…
Photos