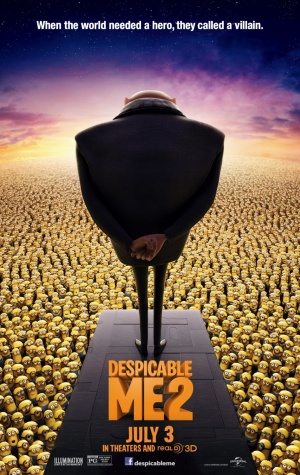 Its been a long time since I wrote any reviews. Lets fix that today with my review on Despicable Me 2, and I am quite surprised posting this as I wouldn't have considered reviewing this movie two days back.
It hasn't been a very good year for movies. It seems that any movie studio now only manages to produce extravagant hype and bitter disappointment. An enjoyable movie has only been so mostly because there were no expectations. Almost every other movie, including the much anticipated Man of Steel has fallen short of the hype. It was not surprising then that I hardly had any expectations set on Despicable Me 2; firstly due to the mediocre performance of the year's movies and secondly due to the generally abysmal quality of sequels. The only reason I went to see this movie, and in a premiere show no less, was my daughter.
Suffice to say that I was hilariously surprised. The movie was brilliant – right from twenty-one two fart gun salute to the adorable minionese. There was hardly a boring or a meh moment in the entire movie. Some of the jokes are not exactly pristine but Gru's accent takes care of that, and leaves you laughing out loud. The overall delivery and pace of the movie is excellent.
As expected from a kid's movie, it is quite predictable, and that's not a bad thing. The movie runs for slightly less than 100 minutes, and it paces out the story over the duration in an excellent manner. In that time, you see dating, love, parenting, heartbreak, redemption, and a car worth of the Bat-mobile. Not a bad spread at all.
The best part of the movie for me was the minions rendition of I Swear and Y.M.C.A. And, of course, the ending clip of Minion's competing to see who reaches out furthest was really cool. This is where the 3D was really worth it. The party horns and bubbles popped out of the screen and you would just try to touch it.
All in all, the movie is well worth 4 out of 5 stars. Well, of course, not perfect but a great and hilarious movie all the same.
Summary
Reviewer
Review Date
Reviewed Item
Author Rating