27
Nov
2010
November 27th, 2010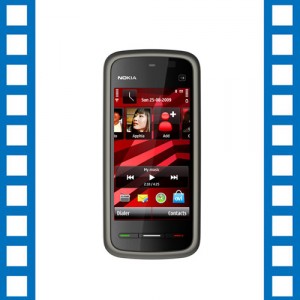 When I bought my Nokia 5230 some time back, I got a 2GB Micro-SD card free with it and didn't bother upgrading. I hit the capacity in no time. I filled the card with music and there was hardly any space left for videos. So, I never bothered with converting videos for my phone.
I recently bought an 8GB Transcend micro-SD card and started looking at playing movies and videos on my 5230. I read the supported video formats on the official specifications page and other places but nothing really helped me here. I also tried the Nokia Ovi Suite to convert the video, and it might have been successful. But I had little patience to wait for the copying file progress bar that took ages to even start. In any case, I always like more control with stuff like this.
I did quite some research to convert videos for my phone. If you want, jump straight to the guide and read the instructions on how you can convert videos for Nokia 5230/5233/5530/5800. Below, I have just written how I came up with the settings and what I tried.
First, I searched the web for Nokia 5230 video converters. I found an application called Nokia 5800 Video Converter. Now, Nokia 5230 is basically a stripped down version of Nokia 5800 (hardware-wise). As they both (and Nokia 5233, 5530 and possibly others) run the same software, the multimedia formats supported would be the same. I decided to give the converter a try. I installed it and immediately disliked the interface. I played around with it a little but couldn't get a video to convert. Again, having little patience with things like this, I scrapped it. Seeing my experience with this, I did not even bother trying other applications I found in my search.
Finally, I decided to try my favourite tool for encoding purposes: StaxRip. I downloaded the latest version and set it up. I tried a lot with different settings and encoders but the results were disappointing. The specs page said that the phone supported H.263 and H.264 videos. I used x264 to encode but the video wouldn't play, just the audio (which was AAC). I then realized that the phone only plays up to QVGA resolution (i.e. 320×240) for H.264 videos. I wanted more than 320 pixels width.
Then I tried DivX. Nokia 5230 doesn't support DivX out of the box. The phone doesn't even attempt to open the file. I went to DivX site to download their mobile player. DivX labs just released their DivX mobile player for Symbian S60v5. I downloaded and installed it and reconverted my videos to DivX container (the player doesn't support MP4 container) andtried playing. This time, it was the opposite. The video played but not the audio. This could have been due to the fact that the audio was AC3. I guess it would have played MP3 but I didn't try it. I still preferred a video format that could be played natively by the phone without DivX player.
Then I looked closer to the spec page and saw that the phone supported VGA video playback only for MPEG-SP videos. After a bit of research, I found that both DivX and Xvid are MPEG-SP and so I tried with Xvid. First few attempts didn't work when I finally found the option. Read the guide to know more about it.
Guide to convert videos for Nokia 5230 with StaxRip
Please note that this guide is intended for people with moderate experience in working with video. If you are a complete beginner, I would suggest using any of the other conversion tools that make the job easier. This guide is for those who don't mind getting their hands dirty and learn something new while getting the best quality.
Download StaxRip (I used version 1.1.7.0).
Extract the zip file in any convenient folder and run StaxRip.exe.
Nokia 5230 template (which is basically an Xvid profile with the options set as per following points). I have attached the profile to this post for you to download. To use the template, extract the 'Nokia 5230.rip' file and place it into 'Templates' folder under StaxRip folder.
If you are using the profile downloaded from here, you can skip to step 8.
You will see a Getting Started dialog. You can select the Xvid or DivX profile depending on what you want. I have actually created a
You will see the main screen as shown below. The settings might differ depending on the template you selected.

Video Codec: XviD
Audio Codec: AAC – Any bitrate you want. I used 64 kbps
Container: MP4

First, we will set the options. In summary, you need the following settings. See the screenshot for indication where to set these.
Click on 'Codec Configuration' to set XviD options. We know that Nokia 5230 plays only MPEG-SP (MPEG Simple Profile) videos in VGA. So, we are going to set the profile accordingly to 'Simple @ L3'. Set any other options you want if you know what you are doing. Otherwise, leave them at their defaults and click OK to close the configuration.
That is it; you have set all the options. You can now save this template for later use. If you want to use DivX, set the codec to DivX instead of XviD and container to DivX Container instead of MP4. Specifically, you will need to set the audio codec to MP3. The DivX mobile player doesn't play AC3 audio.
Now we can start converting our video. You can follow any of the guides on StaxRip wiki for all the options available to process the video. Just make sure you set the resolution as described in step 10. I will just cover an overview.
Right click on the source textbox and click on 'Open'. Select the type of video source as explained in the new window that pops-up. Once you select the source, StaxRip will retrieve the audio from the video and set it as Audio Track 1. Make sure you encode it to AAC or MP3 depending on the format you want as explained in step 5.
Make sure you resize the video to be smaller than 640×480. I noticed slight stutter in some places even with much smaller resolutions on my Nokia 5230.
Click on 'Next' in the Assistant panel to start the job. If all the options were set correctly, you will see a window where you can start the job immediately or leave it in the queue. To start the queue for conversion, simply click 'Start'.
StaxRip will invoke all codecs and tools as necessary and as soon as it finishes, you have your MP4 or DIVX file. Transfer it to your phone and enjoy the video.
Conclusion
I hope this guide is easy to understand and helps you convert your videos. Of course, if any of these instructions or anything else on this website or the Internet causes damage to your phone, yourself or your dog (or any other pet of yours or anyone else's), I am not responsible. Please try the instructions at your own risk.