6
Oct
2011
October 6th, 2011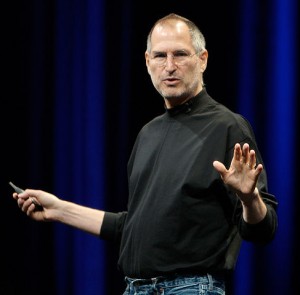 Today, I stepped into office expecting a day like any other – work, lunch, work some more, dinner and sleep. When I got in, I didn't expect to write a blog post. But the first thing I saw when I switched on the monitor was a tweet that Steve Jobs has passed away.
I searched and read many glowing tributes on his life, his work and his passion. I don't know what I can say to add. I have always been inspired by Jobs and his speeches and taking note from his speech at Stanford Commencement Address, I will try.
Don't let the noise of others' opinions drown out your own inner voice. And most important, have the courage to follow your heart and intuition.— Steve Jobs, June 2005
I have read many tributes to him and how he has changed the world with technology, with design and with story-telling. It is hard for me to digest that. I have never really cared about Apple products and though I think movies by Pixar are great, I didn't think that because they were made by Pixar or associated to Steve Jobs. What I really care about is how Jobs and his words have inspired me, as an entrepreneur and as a person, and confirmed in me the correctness of choices I have made. For that, I really do feel very sorry and very sad by the news of his death.
Of course, Steve Jobs has touched many more lives and made a difference. This is just my humble tribute to an extraordinary man who has inspired me. When I started to write, I was going to say "Steve Jobs is no more" but then I realized that is incorrect. His ideas and his idea of passion lives on in the hearts of many he has inspired and mattered to. Rest in peace!
On parting, I am sharing some of the tributes that I could really associate with:
Steve was fond of saying that he lived every day like it was his last. Because he did, he transformed our lives, redefined entire industries, and achieved one of the rarest feats in human history: he changed the way each of us sees the world.— President Barack Obama
Thanks for showing that what you build can change the world. I will miss you.— Mark Zuckerberg
He's quite simply mattered to me and to millions of people around the world. I realize now that the lesson I've learned from him is that to matter – is well – really all that DOES matter.— Scott Bourne's Tribute