28
Apr
2013
April 28th, 2013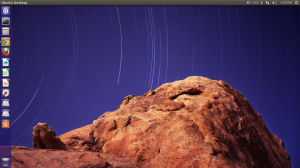 I downloaded Ubuntu 13.04 the day it was launched. I didn't get time until the weekend (yesterday) to try it out. I wanted to do a clean install and began with taking backup of all my files, databases, etc… I should probably move them to another partition (like I do in Windows) but that is an exercise for the future. I am relatively new to the Linux world, and want to keep things safe and simple.
First, a little history. If you would rather just read about the problem I faced with the mouse and touchpad not working, just skip to that section.
History
I have switched over to Linux since about 6 months now. Until then, I just have had small flirtations with a couple of Ubuntu distros. I think Ubuntu 10.04 and 10.10 when they came out but pretty much gave up the idea of switching to Linux as at that time as I still needed Windows for a lot of things. I finally made the switch about six months ago and haven't needed Windows since, for most part.
I started with the then newly released Ubuntu 12.10. I did not like Unity when it came out. In fact, that was one of the reasons why I almost abandoned trying Linux at the time. I gave it a shot but could not get used to it. Of course, my next option was Linux Mint. It is based on each release of Ubuntu and hence, there is a release of Mint about a month after Ubuntu. I waited for Linux Mint 14 and installed it as soon as it came out. I was completely comfortable – I had the reliability of Ubuntu and a desktop interface with which I was comfortable. I decided to use Cinnamon as it seemed like the best option then.
It has been working quite well, except for a few UI bugs. Certain text boxes, and other UI elements do not work the way you expect. I installed some of the Cinnamon applets to put in more features, but it lacked the polished feel of the Windows UI. I simply loved the terminal, though. As I spent most of my day in a terminal, or a browser, it hardly affected me.
Installing Ubuntu 13.04
I decided to try Ubuntu 13.04 and see if I can finally get used to Unity. I downloaded the 64-bit ISO and the latest version of UNetbootin to write the ISO image to a USB drive, as always. It worked fine. I directly selected 'Install Ubuntu' option from the boot menu and went about the installation as normal. Everything looked great. I formatted my old Linux Mint partition and used it as root, and selected another 10 GB partition as swap. The installation succeeded.
Mouse not working
On restart, I logged in and found that the mouse and touchpad stopped working. I also saw that WiFi was not connected, even though I had connected during installation. I just thought that maybe I would have to enter the password again. But mouse did not work.
I restarted and booted from the USB drive, this time selecting the 'Try Ubuntu without installing' option. Everything worked great here. Mouse, touchpad, network, everything was smooth. I tried searching for the problem on Google, AskUbuntu, etc… and found few reports of this problem, but no solution. There was even a mention of how the new power management might interfere with this, but no fix. However, I saw on one of the posts that everyone with the problem mentioned that they used UNetbootin.
Based on a hint, I booted from Live USB again and selected 'Default' option on the boot menu. It showed an error 'Kernel image error'. This pretty much convinced me that the problem was with UNetbootin.
Solution, Finally!
I first checked on Ubuntu website if there is a new recommendation to write to the USB device. I found just such an article and downloaded PenDriveLinux. It worked pretty much the same way as UNetbootin. I just selected the Ubuntu version, ISO file and selected the USB drive and it did its job.
The Live USB is slightly different. It directly boots into Ubuntu and you get an option to try or install. I chose Install again, formatted the same partition and continued with the installation.
It worked! Mouse and touchpad works properly and WiFi was connected as soon as I logged in. I am using Ubuntu 13.04 now and it works great so far. The first thing I did was to install Synaptic Package Manager (sudo apt-get install synaptic). Installing Google Chrome was not so simple, as it depends on libudev0 which was removed from Ubuntu repositories. That is fixed on Chrome dev channel but I didn't want to install that. Instead, I downloaded the libudev0 .deb package and installed Chrome as normal.
I have to go about installing all my tools, servers, etc… and I will know how well I can get used to Unity.