13
Jan
2016
January 13th, 2016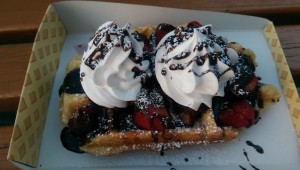 This is a review long pending. I have been visiting Waffle Walle and having their delicious waffles since over a year now. It was awesome in the beginning, went a little down a few months back, and it is back to awesome now. There, that's my one line review for Waffle Walle.
The owner is a very nice guy and it's always a pleasure to talk to him. That, apart from the waffles, is what keeps me coming back. I do care about the service you offer, not just the food, however great it may be. And the waffles are really good. I especially like the Liege waffles but the Brussels are very well done too. My usual preference is Chocolate bite (photos below), sometimes with whipped cream. My wife prefers the ones with fruits. Regardless, I have enjoyed them all.
They also package the waffles very neatly if you want to take them home. All toppings are stored in different containers so that the waffles don't get soggy. Just assemble the waffle again and enjoy it at home. It is still not quite as good as when you have it immediately, but it is as good as it can get in takeaways. Considering all the different containers you need, Rs. 10 extra is worth it.
I haven't tried Belgian or the other waffle places to compare. But this is certainly much better than waffles I have had elsewhere. If you are in the area, go try it. If you are not, go try it anyway. If anything can get you over Bangalore traffic, it's this. I have no hesitation in giving this a hearty 4.5 out of 5. I am just docking half a point for small inconsistencies in presentation. Nothing major, and 4.5 is still a great score.
Photos below. Click on them to view on Flickr.
Summary
Reviewer
Review Date
Reviewed Item
Author Rating
4





Hello there! If you are new here, you might want to subscribe to the RSS feed for updates on this topic.This is a review long pending. I have been visiting...